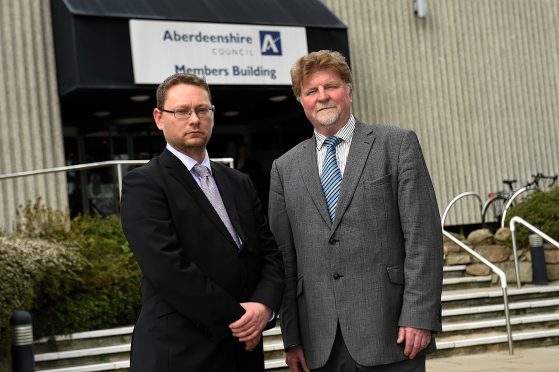 Aberdeenshire Council's ruling administration has been accused of misleading the public over the true financial benefits of selling off its main headquarters at Woodhill House.
The Press and Journal revealed on Thursday that the local authority could sell off the £21m property, in neighbouring Aberdeen, to help plug a multimillion-pound budget black hole.
The council has to make savings of £50million over the next four years.
But last night, opposition councillors claimed the facility is not the "golden egg" the SNP-led administration is presenting, as there is a £14.3m debt which still has to be paid on the building.
The Liberal Democrat group has claimed senior administration members either did not know the full facts before detailing the plans, or they deliberately withheld the true extent of the debate.
Cllr Karen Clark, Banchory and Mid-Deeside, said: "It must be in the public interest to ensure that all the facts are known and understood by everyone – it is not the golden egg the administration is hoping for."
However, the Lib Dems' claims have been dismissed by the administration, who have accused the group of "duplicity".
Councillor Martin Kitts-Hayes, co-leader of the council, said: "The sale of Woodhill House was raised by the previous administration a year to 18 months-ago, and officers were instructed to look into it at an internal meeting.
"I think there is a bit of duplicity going on here, because they (the opposition) all received this financial information related to the debt, so it's not actually out of the blue, and to treat it any other way is nonsensical."
Aberdeenshire Council has confirmed there is still an outstanding loan to be paid.
Allan Whyte, head of property and facilities management, said: "We are assessing the way forward, but are committed to continuing to achieve more effective use of our current and future space by delivering more cost effective property solutions. The current value of our assets is well in excess of our borrowing commitments."