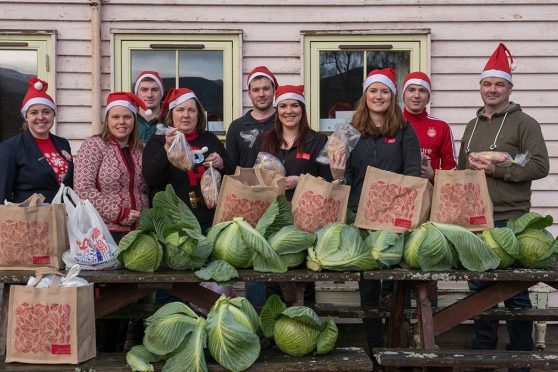 Struggling Deeside families have been lent a helping hand this Christmas after rural estates linked arms with volunteers to distribute a host of festive hampers.
The Glen Dye, Tillypronie and Balmoral estates donated pheasants and venison to the Christmas packages, which have been handed out to around 80 Aberdeenshire residents and families.
Vegetables grown on the Queen's own grounds, including cabbage, potatoes, parsnips and spinach, were also included along with condiments, snacks, pet food and fuel logs.
The recipients – who had been flagged up by family support charity, Home-Start, and the Citizen's Advice Bureau – were taken by surprise when the team travelled throughout the area this week to hand them out in time for Christmas.
Councillor for Aboyne, Upper Deeside and Donside, Geva Blackett, is behind the festive packages – now in their second year – and invited the volunteers to put them together in her Braemar home.
The SNP councillor said it had been a successful project, and that they had travelled to households in the likes of Ballater, Banchory, Lumphanan, Aboyne and Tarland.
She said: "My kitchen was absolutely full of bags waiting to go off. We helped nearly 80 people, four dogs and six cats.
"It shows how with small gestures you can make someone's Christmas.
"One person said to me 'I don't know what I have done to deserve this, nobody is ever this kind to me'.
"People think Royal Deeside is a rich area but there is serious hidden poverty."
Mrs Blackett said people who never imagined themselves being in such a situation were finding themselves in dire straits.
"The people we went out to were referred to us, it can be for a mixture of things," she explained.
"What is very common is people who are working on minimum wage and are really struggling on that.
"I think it is going to get worse with the redundancies in the oil industry, and I think there is a lot of debt in Aberdeenshire.
"I say to anybody, if you need help – ask for it. It is out there."
Vouchers for free meals at India on the Green in Ballater were also in the hampers thanks to owner, Abdul Hamid.
Property management company Strutt and Parker provided the hessian bags and helped with the distribution, while Banchory's Tesco donated much of the food.