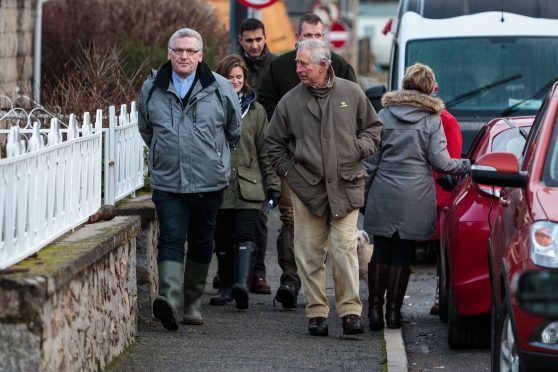 The Duke of Rothesay visited the devastated Deeside village of Ballater today (Thursday December 31) to see firsthand the consequences of Storm Frank.
Prince Charles walked round the town and spoke to members of the public as they started a massive clean up operation in the wake of the River Dee bursting its banks.
The prince and the Duchess of Rothesay, Camilla, arrived by 4×4 in the stricken town just after 2:30pm.
He was dressed casually in a pair of khaki slacks, green jacket and hiking boots as he strolled around the debris covered town on Hogmanay to find out how people were coping.
A palace official described the unprecedented trip as a "private visit" to see how the community was holding up after being battered on Wednesday by Storm Frank.
Prince Charles toured the town on foot with the parish minister Rev. David Barr.
Camilla is thought to have gone on to the Birkhall residence on the Balmoral Estate, where the couple have celebrated New Year in recent years.
After seeing the damage to the riverside houses, Charles later visited the owners of the properties at Ballater's Victoria barracks.
More than 100 people were evacuated to the barracks on Wednesday when the water was reaching its highest point.
Many houses suffered extensive damage when tonnes of water burst from the banks of the River Dee and others were left without power.
Meanwhile a historic fishing lodge which was used by the late Queen Mother appeared to have escaped serious damage during the Royal Deeside floods.
The wooden building, near Birkhall, was a favourite of the Queen mum for fishing, picnics and days out by the river.
Several trees fell down around the lodge on Wednesday and at one point it was surrounded by water.
But yesterday, as a major clear up started across Deeside, it seemed to have escaped the stormy ?eather relatively unscathed.
A fallen tree appeared to have landed on the front porch but no serious damage could be seen and the water had retreated back to normal levels.
Dawn Rennie, 57, spoke to Prince Charles as she was clearing out her flooded house in Ballater.
She and her partner were due to move into the property when the new hardwood floor disappeared beneath a foot of water.
Ms Rennie said: "We've been renovating for a year and were due to move in today.
"I told him that and he was asking if it was going to be salvageable.
"He was really concerned and really lovely.
"He was speaking about Cockermouth and Cheshire and the other places where he had been.
"It was a pleasure. I felt like he really did care.
"But he drew the line at helping with the mopping up."