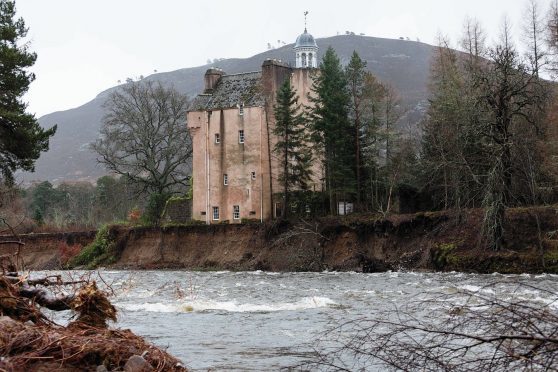 The Queen's neighbour at Balmoral had to flee his home as the raging River Dee swept away trees and a huge chunk of land at the rear of his ancient Abergeldie Castle.
When John Gordon looked out of his back door he saw just 5ft of dry land between him and the fearsome flood – where before there has been 60ft of ground stretching out to the to the river bank.
And like hundreds in nearby Ballater, devastated by last week's flood, the 76-year-old Laird of Abergeldie had to leave in a hurry.
Mr Gordon, who is a friend of the Queen and rents out a portion of his sporting estate to the royal family for shooting and fishing, took refuge with a neighbour Gordon Fraser.
The 21st laird, Baron of Abergeldie, has now moved into a house on his estate.
But one neighbour said: "When the waters came up he had to get out quickly. The castle is teetering on the brink. God knows what will happen if the Dee rises any further.
"The castle is in imminent danger and John is at his wits' end. It's not only a home. It's the heritage, the history.
"It's an A-listed building so losing it would be a national tragedy.
"Nothing can be done while the river is in spate like it is. It's just thundering down.
"It swept away and smashed the mature trees at the back of the house like match sticks. It also took 250ft of the bank away and all the ground at the back.
"The river is right at the back door. I'm sure the Queen will be in touch with her condolences. Prince Charles, who is at nearby Birkhall, will also pass on his sympathy no doubt."
John Gordon's family have had a close relationship with the royal family and the royals rented the four-floor tower house from 1848 until 1970.
Abergeldie Castle dates from the mid-16th century and was built by Sir Alexander Gordon of Midmar.
Meanwhile, the River Muick, which flows close to Prince Charles's Birkhall Highland home before joining the Dee at Ballater, was in full spate.
It burst its banks close to the 18th century manor and the waters flooded a field beside the house, rising right up to the beech hedges which surround the property.