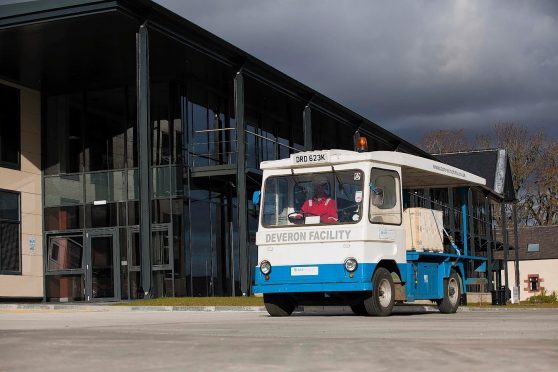 Aberdeenshire firm Ace Winches has turned to wind-power for some of its electricity generation.
The deck machinery specialist said yesterday it had installed a wind turbine at its headquarters at Towie Barclay Works, near Turriff, resulting in a 58% reduction in electricity supply from the national grid.
Other energy efficiency measures adopted by the group recently include new electric car charging facilities and a fleet "upcycled" electric-power milk floats and bicycles for engineers and technicians to scoot around the 25-acre site.
Chief compliance officer Valerie Cheyne, whose husband, Alfie, runs the business, said: "Many communities have harnessed the power of wind and our team at Ace Winches work hard to utilise the most mature and cost-effective source of renewable-energy.
"During these challenging times for the oil and gas industries, we continue to look for innovative solutions to reduce costs."
Senior information technology support engineer Paul MacLeod uses the electric charging points for his plug-in hybrid electric vehicle. "It is great to have the facility on site," he said, adding: "It allows me to commute to work every day on electric power."
With the Energy Savings Opportunity Scheme (ESOS) now law in the UK, many businesses had to complete a mandatory energy efficiency audit by December 2015. Ace submitted its ESOS audit report last June.
Ace, operating in more than 50 countries, manufactures winches and marine deck machinery for the energy industry.
It officially opened new headquarters at Towie Barclay Works just over two years ago after an investment of about £11million.
The firm was established at Montbletton, near Banff, in 1993, and initially relied solely on the fishing industry for business. It now employs more than 300 people.