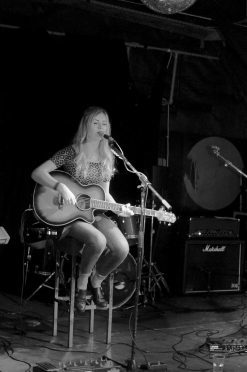 Rachel Hutchinson
A north-east teenager is looking forward to getting into the studio after winning a top British music competition.
Alannah Moar triumphed at the SoundWave competition in Glasgow, beating off competition from more than 300 competitors from Scotland and the north of England.
The 17-year-old, of Laurencekirk, began pursuing her love for music through songwriting, before beginning to perform at local pubs and events. She also began recording on YouTube, and entering competitions.
But it was her proud mum Kristie who applied on her behalf for the SoundWave event.
And none of the family – including dad Keith and brothers Ray and John – could have imagined the doors the contest would open, with her now getting into a professional recording studio.
Alannah impressed the judges and public during the heats of the competition, and went on to become the north-east's only representative in the final at the 02 ABC in Glasgow, where she wowed the crowd to seal her fate.
She said: "My mum heard about the competition and applied on my behalf. It was only when we got through the first audition we looked it up and realised how big it really was.
"It was surreal, I was too excited to be nervous and I think that helped.
"When you play a venue like that, where a lot of the established artists have played even very recently, it's like a dream come true.
"The crowd were great too. I wasn't really thinking about winning too much, but they announced my name and I was ecstatic."
The youngster is now looking forward to releasing a single this year, as well as getting with a single being released this year and her new association with professional musicians and studios.
She added: "I am also excited to get playing a lot more gigs and festivals and having my music reaching a much larger audience in the future."