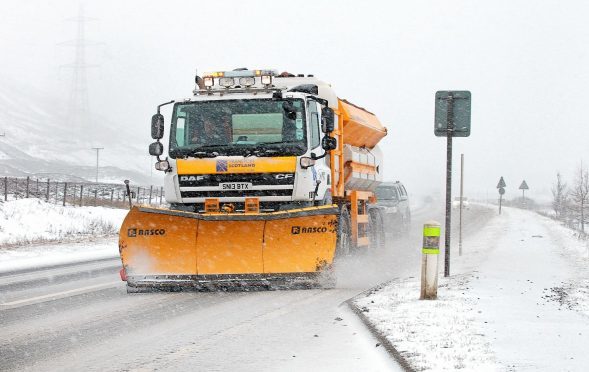 ---
An Aberdeenshire councillor has called for rural communities to help keep some of the region's most remote roads clear as £1million of council cutbacks take hold.
Residents may be asked to grit their own roads following Aberdeenshire Council's winter service review – which has brought a reduced winter roads maintenance budget of £4.268million for 2015/16.
The Kincardine and Mearns area committee was yesterday asked to note the recent changes to the winter service policy, with Councillor George Carr calling on the local authority to enlist the help of its communities in keeping the roads clear.
The local authority's head of roads, Philip McKay, attended the meeting and admitted the local authority would never be able to completely "remove the risk" of ice and frost on the expansive road network throughout the winter months.
He added the recent floods across the whole of Aberdeenshire had left a huge amount of surface water on roads, causing increasing issues with ice.
The council's 32-route primary road network will not be affected by the changes, with its resources, availability and response to snowfall "unchanged".
However, the non-primary road network – where treatment has been slashed by £800,000 – will not be cleared unless sub-zero road surface temperatures or air temperatures below 3C are due to persist for 48 hours.
Mearns councillor Mr Carr said: "I got a phone call the other day from a lady in Marykirk. She had been walking down the road and was hit by black ice and needed hospital treatment. There can be a cost to the new gritting programme."
He added a scheme rolled out in Aberdeen in recent years in which residents began gritting their own roads could be introduced in Aberdeenshire.
Mr Carr said: "Perhaps some of the rural villages need to look at this type of scheme where they are encouraging self-help, enabling the residents to do a bit more on some of the back roads which maybe are low priority.
"That might be something we want to see rolled out in Aberdeenshire."
His comments will be relayed back to the council's infrastructure services committee.
Mr McKay said: "We haven't changed the policy. There will always be the risk of black ice and of frost that will form. Our aspiration is to reduce the risk.
"At the minute there is a significant amount of run off water on footways and roads. It is very difficult, near impossible, to keep that ice free. It is a significant challenge.
"We can't remove the risk completely. What we have to do is remove that to an acceptable level."