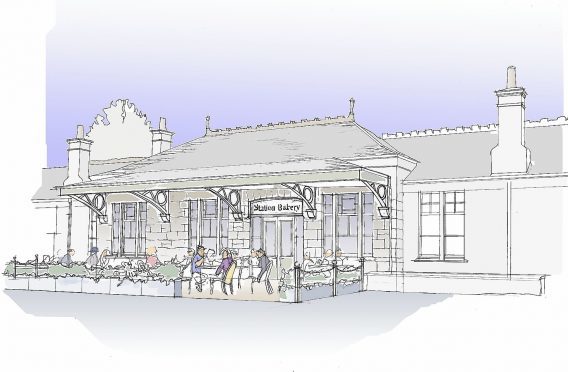 An Aberdeenshire community council faces a six-month suspension after it did not show "respect" for a councillor during a row about the future of a historic railway station.
The Mid Deeside group could be frozen out for half-a-year after sending e-mails which the local authority deemed disrespectful towards Aboyne, Upper Deeside and Donside councillor Geva Blackett.
The group has been accused of breaching the code of conduct established under the Scheme for the Establishment of Community Councils.
Members accused Mrs Blackett of being politically motivated as she tried to help breathe new life into Aboyne Station – and for "trying to steal the show" with her attempts.
The SNP councillor had helped form a working group to look at new uses for the 19th-century building, which has been met with widespread interest from the local community.
The comments were made within the community council's community action plan document, and in an e-mail to councillor Katrina Farquhar.
Now, Aberdeenshire Council's Marr area manager, Janelle Clark, has made the recommendation to suspend the group at next Tuesday's meeting of the Marr area committee.
Area committee officer, Kirsty Macleod, said: "Within the community action plan document there was commentary which related to councillor Blackett which did not show respect for her position as an elected member.
"The area manager has recommended that the community council be suspended for a period of six months after which elections would be held."
Speaking last night chairman of the group, Keith Bennett, said the situation had been blown out of proportion.
He said the community council had raised concerns the project was being used for "publicity".
"We also commented that councillors should not try and steal the show," he said.
"In August last year we were really a new community council, we were a good community council. When we formed in August we had 10 members all keen to represent the community.
"The Mid Deeside Community Council is non-political. We have a complete balance of social views and political views and we don't want to be a community council that can be controlled."
Mrs Blackett did not wish to comment on the issue until the matter had been to the committee.
Councillor for Aboyne, Upper Deeside and Donside, Peter Argyle, said the Mid Deeside Community Council was facing a "very serious situation".
He said: "I attend the Mid Deeside Community Council and have done for the last 17 years. When it reaches a stage that a formal complaint is made and been recommended it be upheld you have a very serious situation facing a community council and a whole community.
"The actual complaint related to the way councillor Blackett has been treated in recent months. I have been on the end of similar treatment myself.
"I think it is an opportunity to kind of draw a line under that and give the community in Aboyne the chance to have a think about what to do and have some new people coming forward and see a community council do what a community council ought to do."
However Mr Bennett added: "I think this sends the wrong message to the community. It is not just that it will be suspended right until after the summer, it makes it hard to involve anybody in the community to join the council."