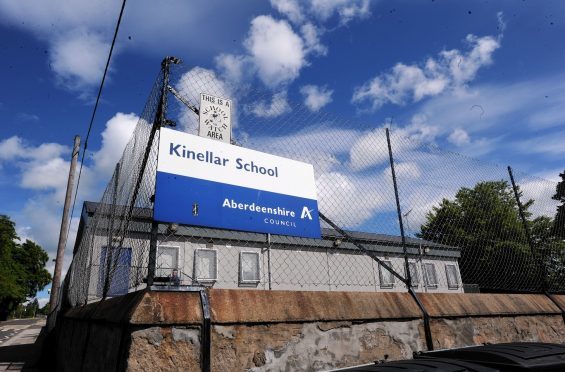 Eight schools in the Garioch area are operating well over capacity, new figures revealed yesterday.
Councillors yesterday heard the local authority is working to address the issues at Hatton of Fintray, Inverurie Market Place, Kinellar, Kintore, Logie Durno, Midmar, Newmachar and Premnay schools – which are all running at more than 100% capacity.
Aberdeenshire Council is expecting rises to the school rolls of each primary except Logie Durno, Premnay and Midmar by 2021.
Kintore primary – currently operating at 139% capacity – is expected to be working at 158% five years down the line, whilst Newmachar could go from 109% to 163%.
Premnay could drop from its current state of 211% capacity to 180% by 2021, and Midmar from 123% to 50%.
However proposals for a replacement 540-pupil Market Place School were backed by Aberdeenshire Council's education, learning and leisure committee earlier in the month.
And the council is also looking at knocking down Kinellar Primary – which was damaged by a fire earlier this year – and building a larger replacement.
Fergus Hood, chairman of the Garioch area committee said many of the issues could also be addressed by the forthcoming Midmill School in Kintore and Inverurie's forthcoming 540-pupil Uryside Primary.
He said: "One that needs to be kept on the radar is Newmachar. It is a growing community, there is pressure on the school."
He asked for further details on an options appraisal for the school – currently underway – to be brought before the committee.
Council asset project leader, Rachael Goldring, said: "The Newmachar appraisal is in its final stages now. We are working with property on a number of viable solutions and get a particular steer on what to do with it."
Vice-chairman of the committee, Martin Ford, said the roll figures were so high as temporary accommodation solutions "unlinked" to school buildings – such as portable cabins – are not considered part of the school.
He added: "Not every council would make that distinction but we do."
Mr Ford said he also has concerns for Newmachar and the "suitability" of the Hatton of Fintray School building.
However he questioned whether school rolls will continue to rise given the economic climate, adding: "We have become used to ever-rising school rolls in much of Aberdeenshire, and the forecasts predict that to continue. But will it?
"There's no sector of the north-east economy that's looking likely generate significant additional employment that will more than compensate for other job losses."