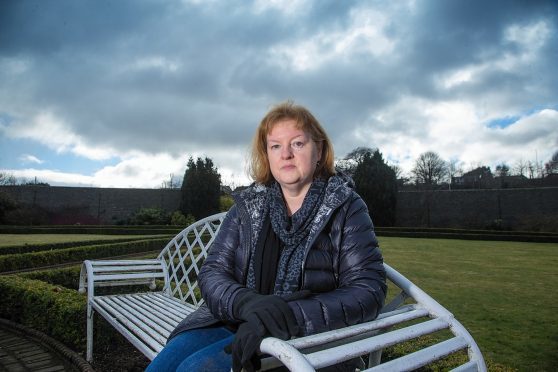 A mum has relived the moment she found out her daughter had been killed in the Dunblane massacre.
Isabel Wilson has a new life in the north-east away from the tragedy, which claimed the life of five-year-old Mhairi nearly 20 years ago.
Thomas Hamilton marched into Dunblane Primary on March 13, 1996 and killed 16 children and their teacher, injuring many more.
Mrs Wilson, who now lives in Lumphanan, had dropped her daughter off at school and had then been due to attend a memorial service for husband Murray MacBeath, who died of a stroke the previous autumn.
But as she was getting organised to leave baby Catherine with her mother, she got a phone call from a friend who told her reports were emerging of a gunman on the loose at Dunblane Primary.
Her initial reaction was disbelief – until she spotted people rushing towards the school.
"The road was absolutely mobbed, she said. "I must stress I wasn't in a panic. I didn't believe it."
She joined the crowd at the school gates, but even when she spotted the police she remained calm – until an officer asked those parents of children in Gwen Mayor's class to come forward.
The group of frantic parents were taken to a nearby house to await news, and were then ushered on to a bus to the school where they sat in the staff room while officers tried to identify the dead children.
It later emerged that the police had already briefed the press that about the fatalities – five hours before the parents found out, which Mrs Wilson has found hard to forgive.
"Mhairi was the only one evacuated from the gym who did not survive," she said. "I wasn't with her when she died. That is the thing I regret most. It is the one regret I have. I would like her mother to have been with her when she died. That is an absolute betrayal. I think that was desperately wrong."
Now teaching in Deeside, and living with husband and "rock" Guy, Mrs Wilson has built a new life away from Dunblane.
She said: "I feel I have had something of great value, something very precious, stolen from me.
"But I think the other side of that coin is that I have been ruthlessly determined that it would not define me."
Mrs Wilson's story feature in Dunblane: Our Story on BBC1 Scotland on March 9.