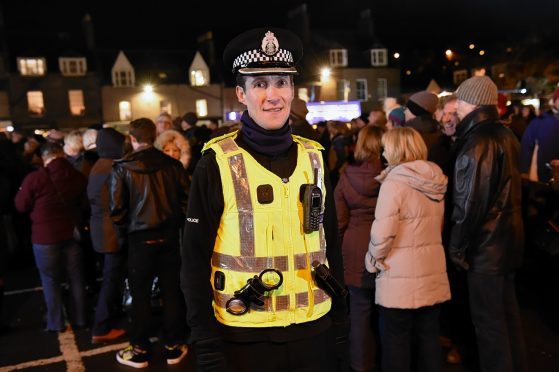 Police are stepping up patrols in an Aberdeenshire town after a series of break-ins and thefts.
Chief Inspector Richard Craig has announced additional police officers were sent into Stonehaven at the weekend.
It is hoped the increased presence will scare off would-be thieves from striking at further homes.
Since the start of the year, a number of properties in the Mearns town have been targeted and police are repeating their plea to homeowners to be vigilant.
Ch Insp Craig, area commander for Aberdeenshire South, said officers had "positive lines of inquiry" but are still to track down the culprits, and whether the crimes are all linked.
He believes those responsible may all be local.
Sheds and garages are among the buildings being targeted, with officers from across the north-east division called in to assist the Stonehaven team.
Ch Insp Craig added: "Over the last two to three months we have seen an increase in acquisitive crime in Stonehaven, mainly around the town centre, but not exclusive to that area.
"There has certainly been an increase in crime whereby personal property and items have been taken from sheds, garages and outhouses.
"A lot of these have been in the early evening and on occasions even during the week.
"Part of our approach to this crime is to have additional officers from across the north-east division to assist the Stonehaven policing team.
"There will be high-visibility and foot patrols, but these will also be supplemented by plain clothes officers.
"At the moment there is nothing to indicate that these crimes are connected other than the fact they are occurring within a close proximity to each other."
Last week, Ramsay Road, Christie Crescent, Slug Road, Baird Street and West Glebe were targeted – with thieves making off with gardening equipment, alcohol and tools.
And in February, possessions were taken from homes on Brickfield Road, Burns Terrace and the Westfield area of the town.
Around the same time a Range Rover Evoque and a BMW coupe were taken from a rural property in neighbouring Maryculter.
Ch Insp Craig urged people to carry out "basic security measures" on their properties, adding: "We are keen to get public support in relation to people reporting in anything suspicious."