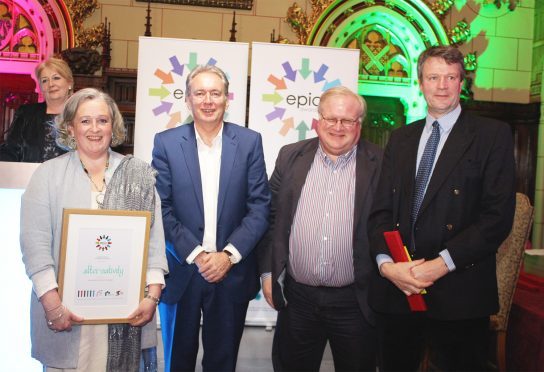 An arts group has scooped a top prize for their modern-day nativity based around the current refugee crisis in Syria.
Alternativity were crowned the winners of the Epic Awards 2016, after impressing judges with their "inspiring, sensitive and uplifting" topic and their inclusivity.
About 100 performers from villages Birse, Ballogie, Finzean and Strachan came together to stage the play.
From the start of the performance, the audience was engaged with the refugee theme – tickets stated that people should arrive in shared transport, carry sufficient bedding and hot drinks, and be prepared to complete paperwork.
On arrival, guests were made to queue, given rations and marched to their seats after being processed.
Melanie Shand from Alternativity said: "We were thrilled to be shortlisted but to actually go on and win the Epic Award feels like the proverbial feather in our collective community cap.
"You start a project because it seems like a good idea at the time and then once everyone gets behind it, it gathers momentum and before you know it everyone has been inspired. It's no small measure of credit to our community that where I might have an initial idea it's the community that make it epic."
The Epic Awards, now in its sixth year, are run by Voluntary Arts with support from Spirit of 2012.
Jemma Neville, director of Voluntary Arts Scotland said: "The sheer ambition and inclusivity of Alternativity is what impressed us the most.
"From the logistics of creating an outdoor theatre space in the middle of winter and working with a cast of 100 plus members of the local community, to taking an innovative approach to the traditional nativity story by using it to engage the audience, and cast, with the current refugee crisis."