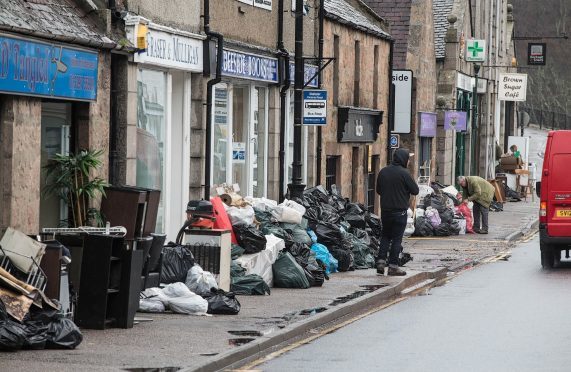 A north east couple, whose business was badly affected by Storm Frank, celebrated successfully reopening over the weekend.
David and Wendy Cobban couldn't believe their misfortune when their Brakeley Gift Room on Ballater High Street was all but destroyed by flooding only two months after opening its doors.
Wendy Cobban said: "We really were hit by the perfect storm – the street has never flooded like this before, so even though there was a lot of rain, I never imagined the damage and flooding would have been as extensive as it was."
David Cobban added: "To see Ballater that way after the floods and the devastation was just shocking. I was born in Ballater and no one in living memory had seen anything like it.
"We thought like everybody else that Ballater was safe from flooding on this scale. I know we have seen the golf course flood before in previous years – but to see the volume of water coming down the streets of Ballater was shocking.
"Obviously, when you are in a place up in the hills and you think there is no real threat of flooding, no one knows what to do when it's so unexpected, people just weren't prepared."
But, after four months of restoration and the continued support of the community, the couple were over joyed to welcome customers back into their shop on Saturday and thanked all of those who had paid a visit to the gift room over the weekend offering words of support.
Mr Cobban said: "The support from the community has justbeen unbelievable; people were volunteering from all over and coming in every day to offer support and encouragement.
"Reopening was an incredible feeling – we opened at 10am on Saturday morning and at five past 10 the first person came in to give us a gift and wish us well, we had an enormous amount of people in the shop and I get the feeling that locals are relieved to see the beginning of Ballater returning to normal again.
Mr Cobban also commented that he was optimistic for the future and knew the community could overcome any obstacle in it's path.
He said: "The village will return eventually and I know seeing shops reopen gives people hope that despite the devastation, we have the ability to put things back together and make it an even better place than it was before.
"It has always been a special place in Deeside as far as I am concerned and I think the future of Ballater is a really bright one."