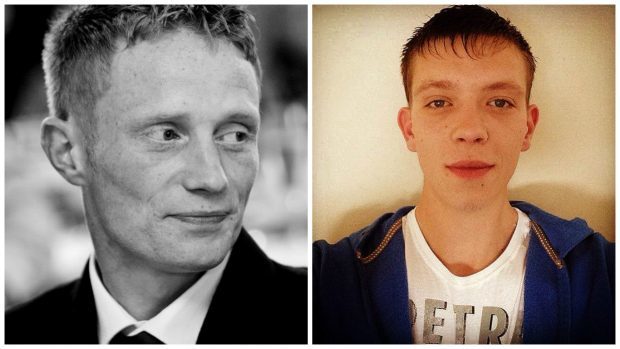 Two men killed in a horrific car crash have been described as "wonderful," "funny" and "hard-working" by their loved ones.
Paul Grice, 24, and Grahame Ellis, 32, died after the car they were in left the A93 Banchory to Aboyne road and overturned.
Police, fire and ambulance crews were called to the scene, near the entrance to Aboyne Loch Caravan Park, at about 9.50pm on Thursday but both men died at the scene.
Last night gardener Mr Grice was described as a likeable, "hard-working loon" by his boss.
And tributes for young dad Mr Ellis also flooded in online, with friends describing him as a "funny guy" who would be sorely missed.
It is understood the red Volkswagen Golf, which was being driven by Mr Grice, hit a tree before overturning.
About a dozen firefighters tried to help paramedics administer first aid but the men, both from Aboyne, could not be saved.
Ron Salt, the warden at the nearby caravan park, ran to help after hearing the car "thud" against the tree on the opposite side of the road from his office.
He said: "We heard the car coming then there was a thud – then complete silence.
"It wasn't a metallic thud – I knew it was a tree that he had hit.
"There was a guy with a white Audi and he was the first car to come across it. He was heading in the other direction.
"He said there had been an accident. What we saw was horrendous."
The road was closed throughout the night while collision inspectors examined the carriageway and vehicle to try and piece together what happened. It reopened at about 6am yesterday.
Both families were too upset to comment on the tragedy yesterday, but tributes poured in from friends, neighbours and colleagues.
James Youngson, who runs his own gardening services firm, said Mr Grice had joined him as an apprentice about five years ago.
He added: "He was just a hard-working loon, a likeable guy."
A neighbour added: "He was a wonderful boy who I will miss so much.
"He would always wave hello to me when he got back from work and make sure I was OK – he was the best neighbour anyone could have."
And Michelle Watson wrote on Mr Grice's social media page: "I lost my best friend and my ex all at once, love you Paul Grice – friends since we were in nappies, don't know what I'll do now."
Friends of Mr Ellis also took to social media to pay their respects.
Julie Anderson posted: "RIP – you were a funny guy, heart and thoughts go out to your kids and family."
Darryn Clark posted: "You will be sorely missed, can't believe what has happened.
"Thoughts with your family and I'll be seeing you again."
One local Aboyne resident, who did not want to be named, said: "My thoughts are with Grahame's children, I have known him for many years and this is a loss for the whole community."
She was echoed by local councillor Geva Blackett, who described it as a "sad incident for all those involved."
She said: "This is just so tragic. Yet more lives lost on our roads.
"My heart goes out to not just the immediate families involved but to the wider friends and the community as these boys were both well-known in the area.
"I'm a mother, I'm a daughter, I'm a sister. What can you say in these situations. It's terrible, the loss these families must be feeling."
Police last night appealed to anyone who may have seen the crash, or have any information about it, to come forward.
Inspector Jon Barron, of the road policing unit, said: "This was a devastating and tragic incident which has very sadly resulted in the deaths of two young males.
"Our thoughts are very much with their families and friends at this difficult time.
"We have already spoken to a number of witnesses, however I would urge anyone who may have seen the vehicle involved or who may have information that would assist our inquiries into the horrific circumstances to come forward."