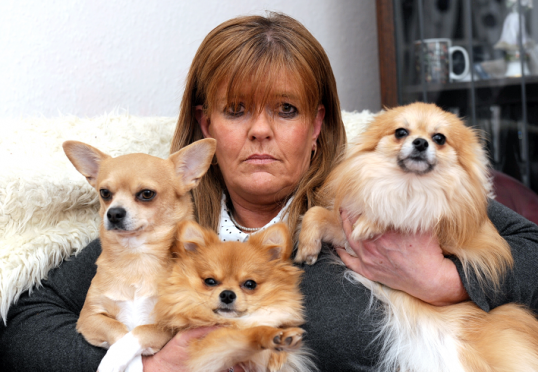 An Aberdeenshire dog owner has raised concerns after cupcakes with mushrooms were found in her garden.
Ellon resident Crystal Penfold believes people are trying to poison her pooches or send them on an hallucinogenic trip with a batch of bizarre baked goods.
Certain types of mushrooms that grow in the North-east are known to be possibly toxic for canines.
Ms. Penfold discovered the fungi-filled treats outside when she let her three pets – Pomeranians Rubyroo and Buddy and Chihuahua Tommy– out for a run around.
The 50-year-old said: "I'm scared of letting them in the garden unless I check first.
"They might be normal mushrooms but it just seemed a bit strange.
"I'm concerned this might be something malicious and someone out there would be sick enough to try and harm them.
"You cannot put a price on my dogs. My dogs are my life."
Magic mushrooms, or Psilocybin, are found growing around the North-east and can trigger hallucinations, but they grow in autumn.
The incident, which took place on Tuesday, was reported to Abderdeenshire Council dog wardens.
Scottish SPCA Chief Superintendent Mike Flynn said: "There are some forms of wild fungus which can be toxic to dogs.
"Anyone who has concerns about something their dog may have ingested should seek immediate veterinary attention."
The representative of the area, Councillor Isobel Davidson, tried to stem fears by saying it probably was not the season for dangerous mushrooms, although admitted she could not be certain.
Ms. Davidson said: "It's a very, very weird thing to happen.
"I don't think you can get dangerous mushrooms at this time of year, not that I'm an expert. It's a funny thing to do and it does not do anyone any good in the community."