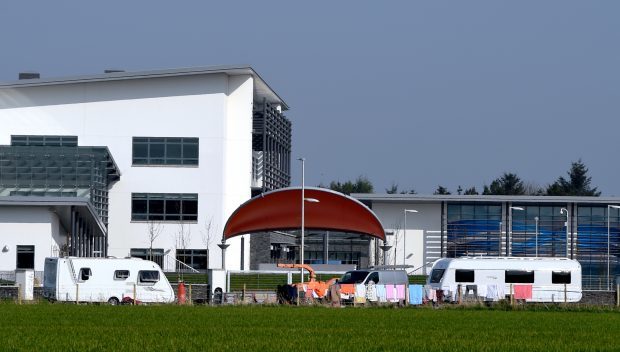 Travellers have set up camp just a few feet from one of the north-east's newest schools.
The group pitched up outside the £36million Ellon Academy Community Campus over the weekend, after being moved on from a site near Tesco, on the town's Castle Road.
Yesterday, about six caravans and accompanying cars were set up close to the road leading to the school.
One member of the group said they would remain on the site for a "couple of days" and that they just wanted "peace".
But ahead of pupils returning to school this morning, and having to walk past the encampment, local residents raised concerns about the potential for conflict.
Ellon councillor Isobel Davidson, who is on the local authority's education committee, said: "There's a great deal of talk in the community and concern because they're so close to the school.
"It is council land they're on, so it will be up to the legal department to sort this out and evict them.
"Some people are worried because the children are in the middle of their exams, and they don't want to be distracted, and I think that's a fair comment."
The school – which takes in pupils from as far afield as Hatton, Arnage, Auchnagatt, Slains and Newburgh – has a range of facilities open to the wider public, including a swimming pool, theatre, sports pitches, fitness suites and community rooms, which are used by a nursery and creche.
Councillor Gillian Owen added: "It's a community campus, they shouldn't be allowed to stay there.
"It's used by all sorts of members of the community, but they've had to lock the gates to the main car park. A church group was forced to park in the staff park for their meeting.
"I understand that the travelling community need to be accommodated somewhere but why oh why do they choose to set up an unauthorised encampment in the most inappropriate areas which will cause disruption to the settled community?
"This activity can only add to the rift between local residents and travellers."
Mrs Owen claimed that some members of the group appeared to be offering gardening or tree surgeon work, and urged the local community not to take them on.
Police are aware of the camp, and in an e-mail to Mrs Owen, Sergeant Andy Sawers said officers had been up to inspect the site.
He reported: "They are off the road on a grass area, they have not had to overcome any security to access the site they are on.
"They do appear a well organised group and all vehicles are brand new and things do look immaculate.
"They had initially attended near to Tesco but were persuaded away from there.
"We will maintain checks and update accordingly."
When approached by the Press and Journal yesterday, one of the travellers said they were planning to stay on the site until later in the week.
"We're only going to be here for a couple of days," she said.
"We're not going to bother the local community at all, and we just want to be left in peace."
As well as their vehicles and caravans, the travellers have also set up washing lines, generators and dog houses.
In 2013, a group of travellers left a serious mess at the nearby site of Balmacassie, including piles of rubbish, empty caravans and cages of ferrets.
Aberdeenshire Council could not be reached for comment last night.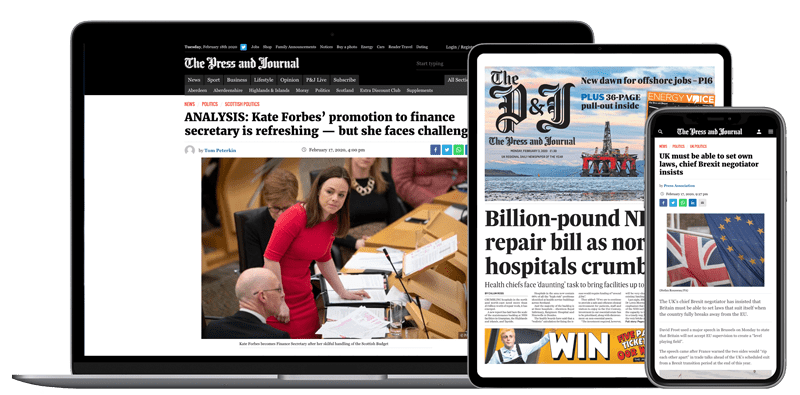 Help support quality local journalism … become a digital subscriber to The Press and Journal
For as little as £5.99 a month you can access all of our content, including Premium articles.
Subscribe