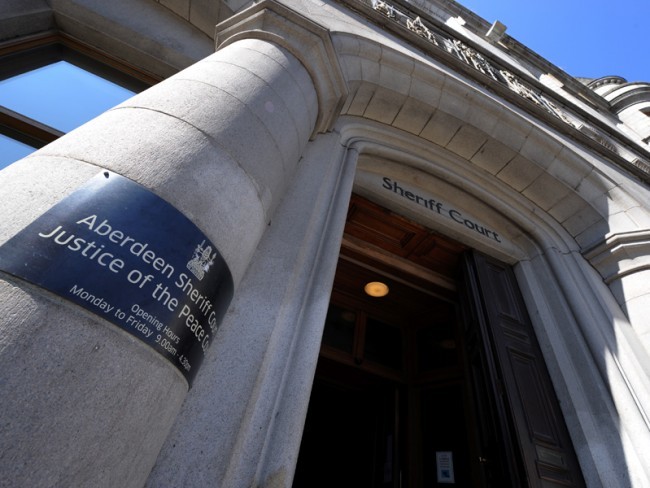 A man stalked his neighbour over an 18 month period after she confided in him about her marital troubles.
Robert Fowler, 51, would wait on Ann Ellis outside her work and home and even followed her in his car.
The pair, who lived near each other in a village, had been on a trip to the cinema as friends.
But the situation took a sinister twist that left Ms Ellis feeling scared because of his "bizarre" behaviour. He waited for her to return home from work at a local school and tried to engage her in conversation.
And he would "bombard" her with texts and phone calls on a daily basis.
Fowler, of Kemnay, appeared at Aberdeen Sheriff Court today having previously admitted engaging in the course of conduct between December 2013 and June 2015.
Depute Lynzi Souter said Ms Ellis decided to stop talking to her neighbour she noticed his change of attitude.
She said: "In the summer of 2014 the complainer noticed that every time she came home from work and parked in her driveway the complainer would engage her in conservation asking things like 'are you talking to me yet' and 'will you come to my house for a cup of coffee'.
"At other times she noticed the accused driving behind her.
"She would make attempts to lose the accused by driving down different streets but the accused would follow her vehicle.
"The accused continued to bombard her with texts and phone calls on a daily basis.
"During these calls the accused would not say anything and would thereafter hang up."
The court heard that on October 24, 2014, Ms Ellis left her home in Kemnay, Aberdeenshire, and drove off in her car.
She noticed the accused following her and ended up driving in a large circle in a bid to see if Fowler was following her. She noticed that he was, she drove to Inverurie Police Station but it was closed and she ended up having to go to work, where a colleague told her to inform the police.
Asked by police about his conduct, Fowler said he "simply wanted to be a friendly neighbour".
Agent Keidra Morrison said her client had lived at the address for 40 years while Ms Ellis had been living in the street for around 10 years, she added: "She [Ms Ellis] initially had a husband but their marriage had broken down.
"He found himself having feelings for the complainer.
"He did not wish to hurt her or put her in a position.
"His position is that he didn't realise the effect it was having."
Sheriff Alison Stirling imposed a community payback order with a nine month supervision requirement. Fowler also has to carry out 100 hours of unpaid work in the community.