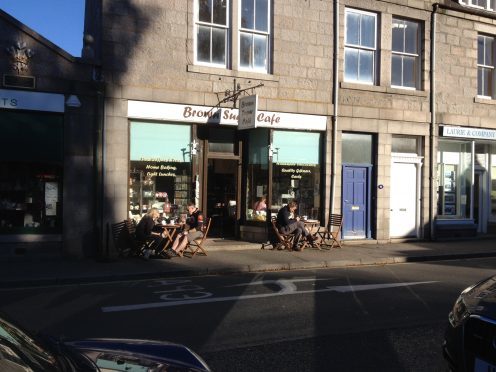 A businesswoman who was affected by the Ballater floods has vowed her cafe will be even better when it reopens.
Karen Gerrie, who owns Brown Sugar Cafe, has tried to find the positive in a negative situation, and has embarked on a refurbishment of her premises, installing a new disabled toilet and level flooring throughout.
Ms Gerrie, who took over the business in 2011, said despite the devastation caused by the floods, the "silver lining" had been seeing the community rally together.
She said: "The support we received from far and wide meant a great deal to us, as it was a very dispiriting time.
"It's been so exciting watching all the refurbishments going on throughout Ballater and knowing that we're another business on its way to reopening.
"There has been a real silver lining to the floods in the sense that the community has really come together. The business association has been great at providing information to all the businesses' involved and there has been lots of positive communication between everyone.
"There's a real community feel to it all, it's such a great feeling to see everyone get back on track."
Richard Watts, chairman of Ballater Business Association said: "To see another business on track to reopen in the next month is such a boost for the whole of Ballater.
"Everyone has worked extremely hard to ensure that the village remains open for residents, as well as the many tourists which visit throughout the year.
"We're really pleased that Brown Sugar Cafe will be back up and running again very soon, and it's fantastic that improvements are being made that will make the cafe more wheelchair friendly."
The cafe will have two stalls at Aboyne Rotary Duck Festival on May 22, where they will be selling gifts and tray bakes to remind the public about what they do best.