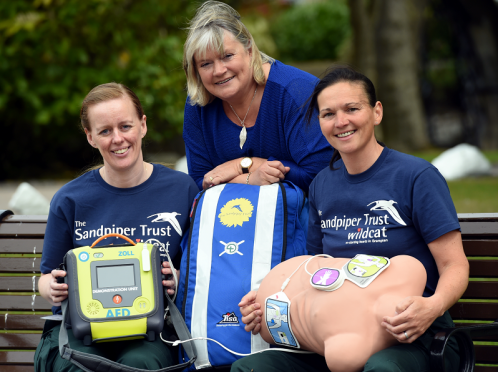 A charity that provides medical equipment for doctors and nurses in rural Scotland has launched a new campaign to save even more lives.
The Sandpiper Trust wants to expand its ability to respond to cardiac emergencies, and is aiming to save 50 lives a year in Grampian.
The charity is now on a mission to raise £850,000 to train 400 new volunteers to help across the north-east through its Sandpiper Wildcat initiative.
The charity's co-founder Claire Maitland said: "When someone has a cardiac arrest every single second counts which is why Sandpiper Wildcat aims to raise £850,000 to create a specialised network of volunteer cardiac responders across the region.
"A number of factors, including geography and spread of towns and villages mean that cardiac arrest patient outcomes locally are some of the worst in Europe and we believe that they can be improved drastically through our initiative, which is also a joint collaboration with Basics Scotland and the emergency services."
So far the charity has raised 80% its target, but hopes the rest can be raised through the support of the community.
Mrs Maitland, who set up the charity with her family in 2011 after her 14-year-old nephew drowned on holiday in a remote part of Canada, added: "We are extremely grateful to all of those who have raised money for us, but we're not there yet. We're nearly there, and we would encourage anyone in communities throughout the north-east to come forward and please help us raise the final amount and make Wildcat a success.
"The Sandpiper trust has been phenomenal in the lives it has saved. Last year there were over 2,000 call-outs to doctors equipped with Sandpiper bags to attend the scenes of incidents and medical emergencies which shows the value of Sandpiper."
There are around 370 cardiac arrests in Grampian every year, of which only 18 people survive.
The charity's Wildcat volunteer responders, equipped with defibrillators, will be based at 50 key locations around the region so they can deliver swift care to those suffering cardiac arrest.
Keri Fickling, project manager for Wildcat, said: "In Grampian there is an issue that if someone suffers from a cardiac arrest, there isn't always an ambulance available as quickly as we would like.
"So Wildcat wants to recruit 400 volunteers across Grampian who we will equip with defibrillators and train; they will then be able to respond if someone has a cardiac arrest in their town or village."