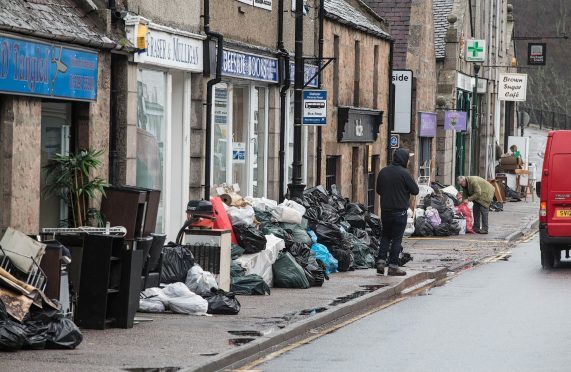 Flood victims in Aberdeenshire have benefited from more than £1.7million of Scottish Government funding following Storm Frank.
Aberdeenshire Council's chief executive, Jim Savege, yesterday said the number of people who applied for financial aid through Holyrood's flood relief fund demonstrated "how many people have been affected".
A total of 873 households benefited from the £1,500 grant made available through the scheme, with 130 payments provided to businesses.
The news came as Mr Savege confirmed that a raft of council work was still in progress to help the region recover from the floods which hit the region in late December and early January.
The council also revealed that about 605 tonnes of waste had been recycled during the flood clear-up by the council and volunteers.
Mr Savege said: "To date, the council has processed hundreds of grant payments and is the only local authority in Scotland to have utilised the majority of its funding allocation from the Scottish Government flood relief fund, which really shows how many people have been affected.
"Teams have also been out to repair and clear streets, waterways, homes, roads, bridges and properties to help Aberdeenshire's communities thrive after the flooding.
"A comprehensive flood recovery plan is in place and we are gathering information and learning from the experiences of flooding in Aberdeenshire in order to provide better protection and resilience."
He also thanked community groups, volunteers, council staff, businesses and churches for their "enormous generosity".
The council's repair bill has topped £8million and that figure is still being assessed.
In Ballater, more than 100 people registered with the council's housing service for temporary accommodation – with around 15 still in temporary homes.
Seventeen people are still in temporary accommodation across the rest of Aberdeenshire.
The council has also indicated it will invest more than £220,000 in repairs to council houses.