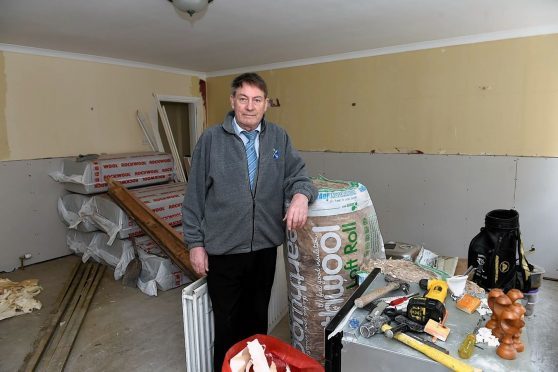 An Aberdeenshire man, who was forced to rebuild his flood-hit home after insurers threw out his claim, is still waiting for a "goodwill" payment from the company.
David MacNeill's Ballater home was flooded by four feet of water on December 30 after the River Dee burst its banks on the village golf course.
The torrent ruined his home and, in the weeks following Storm Frank, his insurers, Integra, put his policy on hold.
Mr MacNeill, along with several other flood victims in the Deeside community, was denied insurance by the firm because he lived within 1,312ft (400m) of the Dee – which was deemed a breach of his policy.
It was claimed that this was in the "small print" of the contract.
But now, the 70-year-old former electrical fitter and hotel owner has moved back into his home – which is finally starting to take shape.
And he hopes that a promised "goodwill" payment from Integra could be on its way soon.
Mr MacNeill has been rebuilding his home with his own hands, allied to the assistance of friends, since his insurance claim was rejected.
He said: "I am in my house and I am still working on it along with local tradesman.
"They (Integra) didn't want to get involved, they just wanted to agree a price with me. That is what I am in the middle of doing now. They are not going to pay up in terms of the policy."
He added he was having to put a price on the man hours which he himself put into the property.
Mr MacNeill admitted: "I'll never, ever get back the time I have lost and the stress level at one time was so high.
"I am using a lot of contractors. I am living upstairs and just trying to get by. The house is not quite there, I have got the semblance of it.
"I don't want anyone else to go through what I have gone through. It has just been horrific."
Some 307 homes and 60 businesses in Ballater alone were devastated in what was the worst flooding since the Muckle Spate.