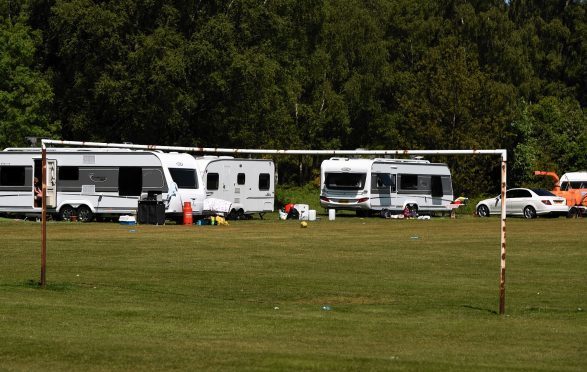 A group of travellers have parked their caravans on a popular Aberdeenshire playing field.
The camp was established at the Glebe Park in Drumoak, on the banks of the River Dee, more than a week ago.
The picturesque Aberdeenshire Council-run park, which is fenced off and its gate bolted shut, is home to a football pitch and benches which are used by locals.
However, a group of three caravans have arrived at the side of the football field, although a local councillor said the site was being kept "relatively clean".
The local authority confirmed they had not moved to evict the encampment and were "monitoring the situation" at the Glebe – where other travellers' sites have sprung up.
The playing field, though managed by the council, is owned by the Church of Scotland.
A spokesman for the local authority said: "Council officers have been to speak to the people who are currently at the Glebe in Drumoak.
"There are three caravans there. We are continuing to monitor the situation and an officer will be visiting them again this week."
A spokesman for the church added: "No formal complaints have been made to the general trustees of the Church of Scotland. The council is in charge of the general upkeep."
Recently, the council agreed to authorise North Esk Park in St Cyrus – which was established without planning permission in 2013 – as an official halting and touring site.
There is also an authorised camp at Greenbanks in Banff, and another in Clinterty, on the outskirts of Aberdeen.
The administration is also seeking to set up further sites across Aberdeenshire.
SNP councillor for Drumoak, Graeme Clark – who is on the council's gypsy-traveller sub-committee – said: "I was down there and it seemed alright.
"That was last week. I did have a look at the gate which had been burst open.
"There is a football pitch, it is a smashing wee place down there. It can get quite busy.
"[Travellers'] groups have been at the Glebe before. I am not saying they have been in there making a mess or will make a mess.
"It they come along and tidy up after themselves, it's okay, but there are the occasional travellers who leave a right mess behind them.
According to council figures, between 30 and 50 unauthorised encampments appear in the region every year.