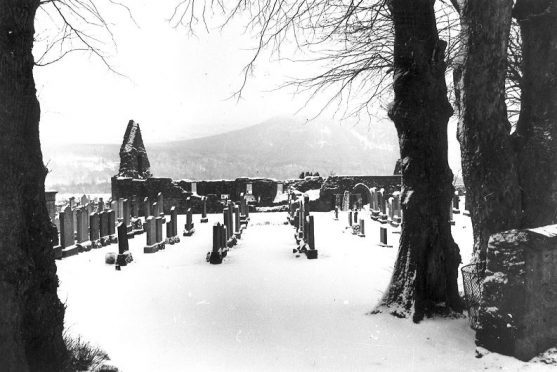 Ancient Pictish monuments will be relocated to a revamped Aberdeenshire railway station, despite a call to keep them in their historic home.
Aberdeenshire Council's Marr area committee yesterday backed relocating the Tullich Kirk symbol stones into the new-look royal station in Ballater for its reopening in the winter of 2017.
It comes despite some people in the Deeside community calling for the stones – said to date back to the 7th or 8th century – to be reinstated at their former home of Tullich Kirk.
The local authority recently revealed £3million proposals to restore the station, which was gutted by a fire in May last year, as a community facility and square.
The symbolic stones were located in the churchyard before being removed for specialist stone conservation, and are now in storage in Mintlaw.
Councillors supported the plans to relocate the stones as part of a new exhibition space planned for the station.
Aboyne, Upper Deeside and Donside SNP councillor, Geva Blackett, said: "I thoroughly support this, I think they are a heritage asset we have to look after.
By putting them in the station, more people will be able to see them."
Fellow ward councillor, Liberal Democrat Peter Argyle, said: "It is one of those 'on balance' decisions because there is a strong part of me that believes they should remain where they were.
"Clearly the world has moved on from Pictish times. And I do think the advantages of moving them outweigh the disadvantages."
Fellow councillor for the area, Conservative Katrina Farquhar, said the idea had been met with "mixed" views in Ballater.
She backed having the stones in the station, so long as there was signage and a walk outlined from the station to Tullich Kirk for visitors to explore.
The council had led a project to create a purpose-built shelter for the stones approved in 2012, but planning permission has since elapsed.
Work is currently ongoing to address structural instability at the church.
Environmental planner for the council, Marsaili Aspinall, said the plans for the stones at the station could include a "walk back in time" to Tullich Kirk.
She added: "This arose with the misfortune of the Royal Station burning down. Progress is slow at Tullich, so we may have to reinstate the shelter.
"If they could move indoors, it would address some of the concerns we have for the stones. They would be secure."