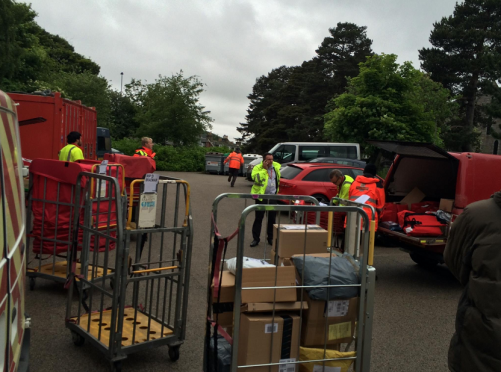 A petition has been launched against Royal Mail following concerns raised over the new distribution of post in an Aberdeenshire town.
Following the closure of Ballater's sorting office, postal workers are being forced to work in a car park.
Earlier this month, Royal Mail made the decision not to renew the lease of the Deeside sorting office, which serves Ballater, Crathie and Braemar.
As a result, staff are now carrying out their work in the small public car park on Swann Place, and it's understood a number of residents have reported their mail being delivered soaking wet.
After concerns were voiced by Councillor Geva Blackett and West Aberdeenshire and Kincardine MP, Stuart Donaldson, she announced on Saturday that a petition was being arranged to be sent to Royal Mail's chief executive officer, Moya Greene.
The petition states: "We the undersigned value our post men and women. We recognise they go the extra mile, often in hostile weather conditions, to ensure that our mail reaches us in a timely and secure manner.
"The recent closure of the sorting office in Ballater has resulted in our post people being required to load their vehicles in a public car park owned by Aberdeenshire Council, placing the public and your workforce in danger – our mail facing the severity of the weather in an insecure environment which is also used for parking by other vehicles.
"We ask that this practice is stopped with immediate effect and that another, more suitable, location for the transfer of our mail is found where health, welfare, safety and security are properly accounted for."
Mr Donaldson said: "I was horrified at the apparent lack of health and safety considerations for the workforce, as well as the way that private and confidential mail was being so openly sorted, without any appropriate security in place."
Councillor Blackett added: "This car park is a public facility, and therefore there are always other vehicles coming in and out, as well as a number of pedestrians walking through the area.
"The presence of the large Royal Mail van, as well as the many smaller delivery vans and the large trolleys for mail to be moved, make the car park hazardous for both Royal Mail employees and the public."
Volunteers will be going round the affected postcodes this week collecting signatures. Residents can sign the petition at the deli on Bridge Street and Mr Cassie's shop.
The petition can also be accessed online at:
https://www.change.org/p/royal-mail-from-the-ballater-crathie-braemar-communities-to-royal-mail