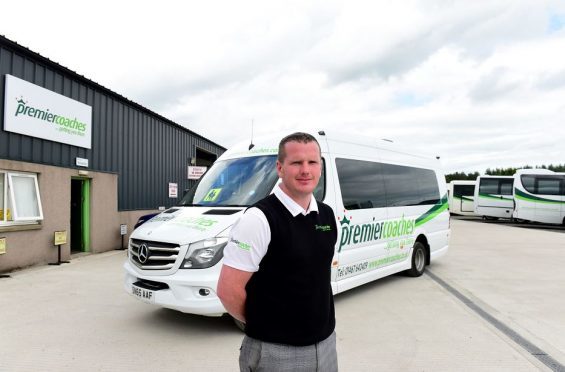 An Aberdeenshire businessman spoke of his delight last night after councillors bypassed a development blueprint for the region to endorse his firm's expansion.
Premier Coaches will move to a new base, adjacent to its current site at Hill of Cottown, Kintore, after winning the support of Aberdeenshire Council's Garioch area committee.
Managing director, Alan Findlater, said the decision would allow his fleet to increase to between 12 and 15 vehicles.
Planning permission in principle was granted for the new Premier Coaches bus depot – which will include a building, 19 large coach bays and seven eight-seater coach spaces – subject to conditions.
Yesterday's decision came despite reservations that the plans were a departure from the Aberdeenshire local development plan (LDP).
Council planners felt there was a "compelling argument" to approve the new depot, regardless of the site location not being allocated in the 2012 LDP.
Mr Findlater said the firm, which he started in 2010, was growing too big for its current site.
And he described the committee's decision as "absolutely brilliant".
He added: "I am delighted, it has been a long, long process but it ended up very well.
"Hopefully, it will allow us to move forward and continue growing."
"We are local to the Kintore-Kemnay area and are now one of the biggest employers in the area. We have effectively outgrown our current site.
"We are coming under increasing pressure by the traffic commissioner to provide additional space."
West Garioch councillor Sheena Lonchay said: "This application is a very rare thing. It is an application which is a departure from the development plan, but backed by the planning service.
"I am very happy to support this application. It is a growing local business, it provides local employment, but more importantly, there are no representations, no objections.
"It is clearly in a location suited to this type of operation."
Westhill and District councillor, Ron McKail, added: "I think the message we are getting out is that Aberdeenshire is open for business."