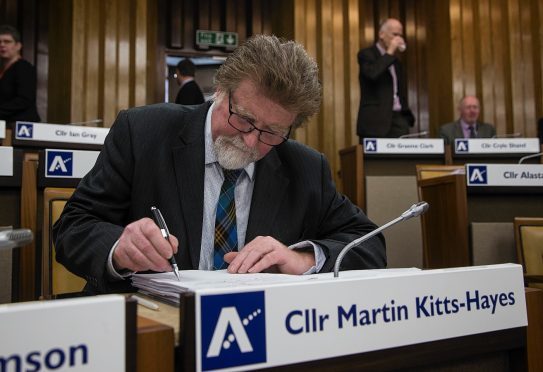 Aberdeenshire Council's under-fire co-leader has ruled out quitting his post – but will refer himself to a public standards watchdog.
Martin Kitts-Hayes walked out of a North Sea jobs summit last month after discovering the delegation would be staying at Legoland.
The Inverurie councillor was due to speak at the North Sea Commission at Billund in Denmark but stormed out just two hours after discovering he was staying at the holiday park, taking the other members of the delegation with him.
Chief executive Jim Savege has already launched an investigation into the matter, which will look into what happened, the cost to the taxpayer and the reputational damage to the council.
And at a stormy full council meeting yesterday, members from across the political divide demanded Mr Kitts-Hayes refer himself to the Commissioner for Ethical Standards.
It came after opposition group Aberdeenshire Alliance pushed through an urgent motion to debate the Billund debacle.
Former provost Jill Webster described the walk-out as "despicable" and said anyone with a "moral conscience" would have resigned immediately.
But Mr Kitts-Hayes remained adamant he would not step down, and insisted he had "absolutely not" contemplated the move.
Speaking to the Press and Journal last night, the Progressive Independent councillor said: "We haven't had an investigation. Scottish law says that you're innocent until proven guilty. Why would I resign?
"We need to work out who is investigating what. As long as it's properly investigated, I get a fair hearing and at the end of the day the right decisions are made for the circumstances then I'm fine.
"I'm more than happy with that."
Mr Kitts-Hayes added it was "obvious" his decision – which he has previously admitted was a "poor one" – should be reviewed by the standards commissioner.
During the debate, Mr Kitts-Hayes and infrastructure committee chairman David Aitchison – who was on the trip along with the authority's European policy and programme manager, Martin Brebner – excused themselves while their peers likened the farce to an episode of political comedy Yes Minister.
Opposition leader Jim Gifford said councillors and north-east taxpayers alike would have been "shocked" to learn of the "non-trip".
"I'm sure we have all been in situations on holiday or on business where the accommodation that has been on offer isn't what we expected – but we deal with it," he said.
"It has been reported that an alternative was offered 10 miles away but that wasn't going to work because of the distance."
Mr Gifford – who served as Aberdeenshire Council leader with Mr Kitts-Hayes as his deputy until a coup last June – reminded the chamber that when the Offshore Europe conference is hosted in Aberdeen, people travel from hotels as far afield as Elgin and Perth.
"This is bad on many, many levels," he added.
Ms Webster added: "To have a co-leader who thinks standard of accommodation is more important than standard of behaviour is to me and most folk despicable."
Councillor Anne Robertson – a former leader of the authority – called for Mr Kitts-Hayes to face the standards commissioner probe.
"It's a privilege, not a right, to hold a senior post, whether as a leader or committee chair," the Turriff councillor said. "With that privilege comes responsibility to the public and to staff to promote our council abroad and showcase our region."
But Democratic Independent and Green Group councillor Martin Ford – who likened Mr Kitts-Hayes's "hasty exit from Europe" to the EU referendum result – called for caution.
"We will not be condemning or condoning what happened until we have the evidence," Mr Ford said. "Something has happened that is very disturbing and we need to know what happened."
Mr Kitts-Hayes will now refer himself to the Commissioner for Ethical Standards and Mr Savege is expected to report back to full council in early August.