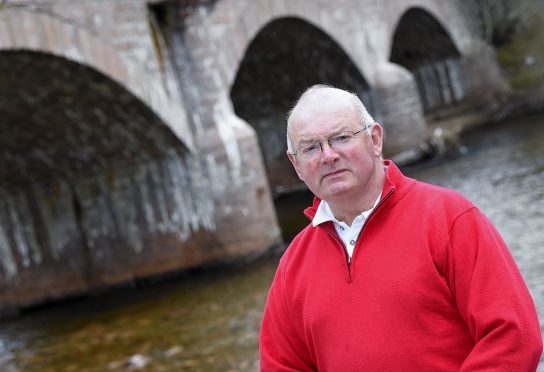 A voluntary group, fighting to bring flood defences to a storm-battered Aberdeenshire village claim the council has been "unenthusiastic" about helping them.
Ballater Flood Group has proposed raising funds for a flood alleviation scheme around the village through a public-private partnership or private finance initiative with the Scottish Government.
More than 300 homes and 60 businesses were flooded in Ballater on December 30 last year after the River Dee burst its banks.
However, the group's co-ordinator, Tony Cox, has accused Aberdeenshire Council of taking weeks to respond to an email querying the legal issues which may surround the proposals.
The residents' first priority is a 2ft flood barrier running from Sluivannachie, where the golf course was breached, to Ballater's Royal Bridge.
If that scheme is endorsed, members will apply for planning permission for the defences through the council.
Mr Cox claimed it could take seven years before a council-led scheme gets underway in Ballater, despite a "strong likelihood" of further flooding within this time frame.
He added that Ballater experienced the "highest proportion of housing stock damage" in the UK – at around 48% – during Storm Frank.
Mr Cox said: "That really makes Ballater a national emergency. We still have not got anything from the council that puts Ballater first in the queue.
"What the council have said is whatever money we get will be on a cost-benefits basis. That is all well and good, but I thought you would invest on a needs basis because social impact has to come into the equation.
"I don't feel enthusiasm from Aberdeenshire Council and I don't think that is unfair."
The council has identified Ballater for a flood protection study, and has also committed to rebuilding the bank which failed at the golf course.
The council's head of roads, landscape services and waste management, Philip McKay, said: "Our local flood risk management plan sets out a strategic, risk-based approach to tackling this substantial issue in Aberdeenshire, ensuring the finite resources are directed towards locations most at risk.
"The announcement by the Scottish Government this week that the interventions listed in these plans are to be funded is extremely welcome.
"Twelve locations in Aberdeenshire, including Ballater, have been identified for flood protection studies and Ballater's study will be progressed in the first tranche, along with Ellon, Inverurie, Port Elphinstone, Insch and Stonehaven."