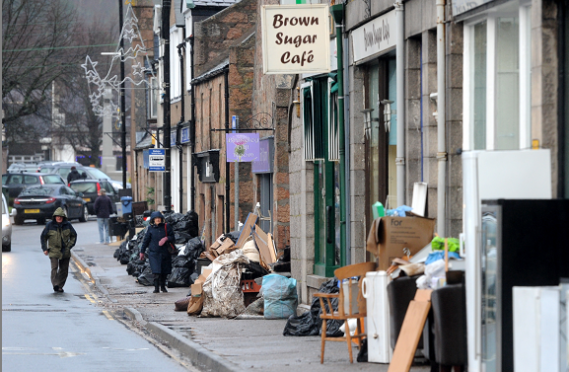 Aberdeenshire residents have criticised the news that proposals designed to safeguard a Deeside property from flooding could be rejected due to conservation concerns.
The scheme to install flood doors at a Ballater property, has been put forward by CRGP Ltd.
The plans would mean 36 doors would be replaced inside Cornellan Square, which is split into 13 homes and was badly hit during the Storm Frank floods.
It was initially intended council officers would make a decision on the proposals, but local councillors, Peter Argyle, Geva Blackett and Katrina Farquhar have now referred them to the Marr Area Committee.
In a report to councillors, planning bosses argued the proposed upvc doors would not preserve the character of the property, situated in a conservation area.
Last night, one resident, who was forced to leave her home for six months, hit out at the report's findings.
The woman, who did not wish to be named, said: "I think when you have the destruction that you saw in Ballater, considering conservation should go straight out of the window.
"We have had a mammoth disaster, we were out of our homes for six months and are only just back after living in temporary accommodation."
In order for the upvc doors to be approved, the officers would have to justify that the material would provide better flood protection than the current timber.
According to the report, despite there being a 10-year warranty on the proposed doors, compared with a three-year one on a timber replacement, water ingress was still possible.
This meant there was insufficient justification for using upvc.
The report added: "Flood risk is a substantial material consideration in the determination of planning applications, but the prominence of the conservation area can't be easily set aside.
"There is no question over accepting the principle of replacing the doors to ensure appropriate flood defence measures are put in place, but the new doors must respect the setting and context of the site."
The developers could not be reached for comment.
The proposals will be discussed at Tuesday's area committee meeting.