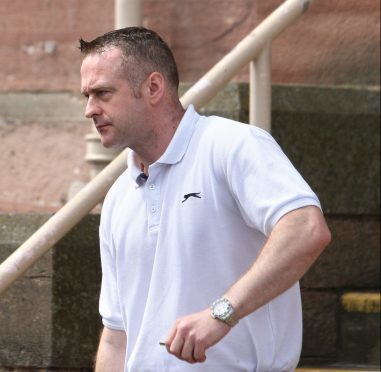 An Inverness DJ last night narrowly avoided jail – but was banned from approaching two of his exes for the next three years.
Joseph Foy appeared for sentence at Inverness Sheriff Court yesterday on two stalking charges involving ex wife Jacqueline and former girlfriend Clare Mackay.
The 43-year-old, of Ardcroy Road, assaulted Ms Mackay by slapping her on the face in a city pub, and making a derogatory remark to Jacqueline at Inverness Sheriff Court.
Yesterday, Sheriff David Sutherland placed a three year non harassment order on Foy to protect the two women and told him: "You are here on four charges and if you breach these orders, there is the potential of four years imprisonment."
Foy was also on three bail orders when he followed Ms Mackay's car through the city centre and on to a friend's house on June 17 this year.
After reading it, the Sheriff added: "You seem to have a problem with understanding that your behaviour is not acceptable and you believe everyone seems to be in the wrong but you.
"You have been given previous opportunities by the court to mend your ways and if it were not for your relationship with your children, I would have jailed you today.
"But your ex wife and former partner should not have to suffer. You will be placed under two years social work supervision and have to carry out 240 hours of unpaid work.
"You are also prohibited from approaching within 200 metres of the two women or the properties they inhabit and you cannot contact them in any way apart from through a solicitor."
The court was told that in January, 2015 Foy went into two Inverness bars and asked to see CCTV footage of particular nights he claimed his wife was in the premises.
He then confronted his mother in law with a photograph.
Mr Carvel also told the court that on May 2, 2015 in the Caledonian Bar, he assaulted Clare Mackay by slapping her on the face.
The second offence involving his ex spouse was at Inverness Sheriff Court earlier this year where he called her "a cow" while both waited for a civil court hearing.
Finally on June 17 this year, Foy followed Ms Mackay through the streets of Inverness in his van, at one stage exiting his vehicle and speaking to her at traffic lights and then out to the Holm area.