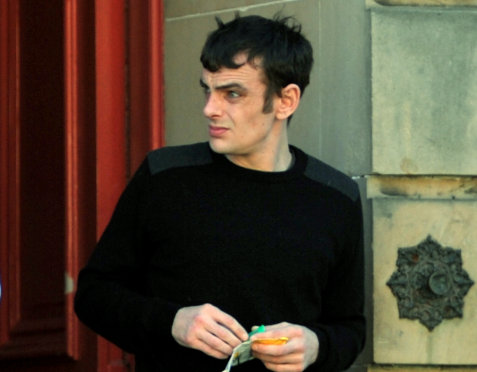 Two women in their 80s had to dive for cover when a man armed with a crossbow fired a dart into a garden.
The potentially-deadly six-inch bolt ricocheted off a shed after Mark Mitchell pulled the trigger.
Terrified Elizabeth Gray 86 and her 82-year-old sister took cover and put their hands over their heads when they heard what sounded like a gunshot.
Thirty-year-old Mitchell admitted culpably and recklessly discharging the crossbow pistol while members of the public were nearby when he appeared at Elgin Sheriff Court.
He admitted causing Mrs Gray to be put in a state of fear or alarm for her safety and in a position of danger.
The incident happened in Dufftown as Mitchell tested the newly-acquired crossbow at his garden in the village's Albert Place.
The metal-tipped dart flew into Mrs Gray's garden at nearby Balvenie Street.
Mitchell's agent, solicitor Matthew O'Neill, said his client had been practising with the crossbow after buying it online in an attempt to get a job in pest control.
A dart bounced off his shed and "flew away" towards Mrs Gray's home.
Fiscal Alison Wylie said Mrs Gray and her sister were "scared and terrified" as a result of the incident.
She said: "The women went into the garden at about 3.30pm. The accused was in his garden when Mrs Gray heard a bang like an air gun.
"The women at
tempted to take cover and put their hands over their heads while running into the house.
"There was then a second sound, which sounded like metal hitting the ground.
"Mrs Gray's husband was in the conservatory at the time and was extremely concerned. He went into the garden and recovered a six-inch dart with a silver pointed tip."
After hearing residents in the street talking about the incident, Mitchell handed himself in to the police and explained it was an accident.
He also apologised to Mrs Gray for the distress he had caused.
Mr O'Neill stressed his client had seen the couple several times since firing the crossbow and there had been no difficulties.
The solicitor added: "Mr Mitchell had been to see his GP about some difficulties and decided to get out and about more – for that reason he purchased the item in the hope of gaining employment on farms for vermin control.
"The item was purchased from the internet and he took it to his back garden."
Sheriff Olga Pasportnikov ordered the crossbow and darts to be forfeited when Mitchell appeared for sentence yesterday.
He was also placed under a curfew from 7pm-7am for nine months.
The incident happened on May 16.