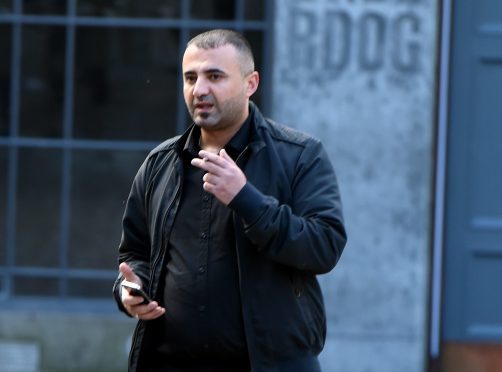 A man accused of an armed robbery at a house in the Highlands claimed he was in Perth when it happened – despite his phone being detected in the area at the time.
The High Court in Aberdeen heard yesterday that Ali Akguc's mobile was registered by masts beside Loch Ness around 10.05pm on December 6.
On the same evening, around 11pm, a masked man forced his way into Lisa Cetiner's Drumnadrochit home armed with what appeared to be a gun.
After pointing the weapon at two children in her care and forcing them to the floor, he made off with thousands of pounds.
Akguc, who worked with Mrs Cetiner's husband, is on trial accused of the robbery.
The 36-year-old accepts a heist took place – but denies any involvement in it.
Giving evidence in his own defence, Akguc told the court that at the time of the incident he had been working at Mr Cetiner's restaurant, the Moorings, since April 2015.
He said he was originally hired to carry out seasonal work over the summer but had asked if he could stay on until the end of November.
He said that on the day of the robbery he had planned to leave the Highlands and head back to London to be with his wife and two children.
Akguc told the jury that during the day of December 6 he had loaned his silver Volkswagen Passat to one of his co-workers.
He claimed that at the time he had left his phone charging inside the car.
The court previously heard that Akguc's vehicle had been spotted on several occasions on the day of the robbery in and around the area where Mr and Mrs Cetiner lived.
And one witness told the court they had seen the man who carried out the robbery in the Passat earlier that day.
The court also heard that phone records had placed Akguc's mobile in the area close to the robbery throughout the day on the Sunday.
But he told the court he had not left the accommodation block he had been staying at until later that night.
He said he left in his car to head to London around 8pm and said by the time the robbery happened, just before 11pm, he would have been in Perth.
But advocate depute Sheena Fraser, prosecuting, challenged his version of events and said he was lying.
She said "If that is the case, explain to me please why your mobile phone connects to a mast on the other side of Loch Ness to Drumnadrochit at around 10.05pm that evening?"
Akguc replied: "I have no idea."
The trial, before Lord Burns, continues.