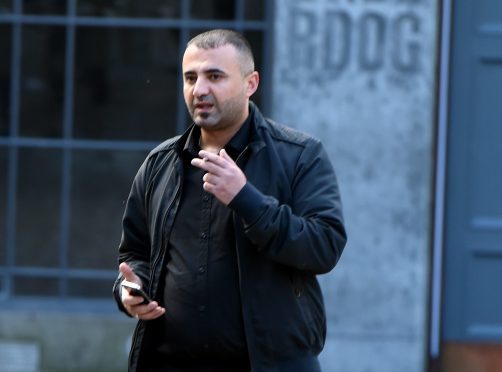 A Turkish waiter has been convicted of breaking into his boss's Highland home with a gun before making off with thousands of pounds.
Ali Akguc masked his face and armed himself with a firearm last December, before forcing his way into Lisa Cetiner's house in Drumnadrochit.
The 36-year-old repeatedly threatened to shoot the two children in her care while he stood with the gun pointed at them, before ordering her to fill a plastic bag with money.
Akguc subsequently fled in his silver Passat, prior to police eventually apprehending him two days later, driving along the M6.
The Turkish national, who had been working in Mr Cetiner's restaurant since April, 2015, had been on trial at the High Court in Aberdeen accused of carrying out the armed robbery.
He had denied the charge against him and, during evidence on Wednesday, implied the person responsible was one of his co-workers.
However, a jury of 11 men and four women took just 15 minutes to find him guilty by majority yesterday.
Throughout the trial, the court heard Akguc had been hired to work at the Moorings in Fort Augustus over the summer, but had asked if he could stay on until the end of November, when he knew Mr Cetiner would be in Turkey.
Giving evidence on his own behalf, he said on December 6, the day of the robbery, he had planned to leave the Highlands and head back to London to be with his wife and two children.
He added he did not leave for London until later that night, because he had loaned his silver Passat to one of his co-workers during the day.
The court had previously heard the Passat had been spotted on several occasions on December 6 in and around the area where Mr and Mrs Cetiner lived.
And one witness told the court they had seen the man who carried out the robbery in the Passat earlier that day.
The court also heard that phone records had placed Akguc's mobile in the area close to the robbery throughout the day on the Sunday.
But he informed the court that he had mistakenly left his phone in his car when his colleague was using it.
Akguc told jurors he eventually headed off to London at around 8pm that evening and claimed that, by the time the robbery occurred, just before 11pm, he would have been in Perth.
However, his phone was detected in the Highlands at 10.10pm.
Akguc was remanded in custody yesterday and will be sentenced on November 24.