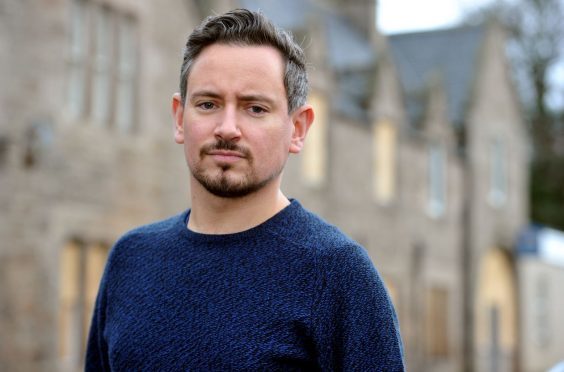 A Moray councillor accused of possessing child porn has vowed to stand at May's local elections – and win.
Sean Morton has already been suspended from the Scottish Labour Party after being charged with having indecent images of youngsters.
But the 35-year-old Fochabers Lhanbryde member has pledged to clear his name and said he had been left "heartbroken" by the allegations.
He has been a Moray councillor since 2012, campaigned against school closures and helped spearhead the recent fight to save the Tenant Arms in Lhanbryde from demolition.
He said last night: "I intend to stay as a councillor, I intend to fight the election and I intend to win. Nothing has changed and my approach hasn't.
"I will keep doing what I have been doing for the community as normal and I will fight the charges. I'm an innocent man."
He added: "I have no plans to go quietly into the night."
Morton revealed he had been comforted by messages of support following the allegations and thanked supporters for continuing to have faith in him.
He made no plea when he appeared in private at Elgin Sheriff Court to face three charges relating to indecent pictures of children – possessing the images, taking, or permitting them to be taken, and distributing or showing photographs.
He is also accused of possessing extreme pornography.
There are no rules barring the councillor from standing at May's election while he is facing the allegations.
Morton stood for Scottish Labour at the general election in 2015 and the Scottish Parliament elections last year.
He also joined Hilary Clinton campaigners in the US presidential election campaign trail, meeting the Democrats' candidate and having his picture taken with her.
After being suspended by the Labour Party the councillor will sit as an Independent member during committee meetings.
John Divers, the Labour group leader on Moray Council, was informed by local authority officials that Morton was facing the allegations.
Elgin councillor Mr Divers stressed Morton would be welcomed back into the party – depending on the outcome of the case.
Councillor Divers said: "Obviously he's innocent until proven guilty.
"When you are suspended by the party it's pending the outcome of any investigations.
"If he's found innocent then he would obviously be able to rejoin the party."
Last night, the Crown Office confirmed Morton had been committed for further examination after appearing in private on petition at Elgin Sheriff Court.
Morton said: "I don't know what this is all based on and I will fight these allegations with everything I have."
A Scottish Labour spokesman said: "Sean Morton has been suspended with immediate effect."