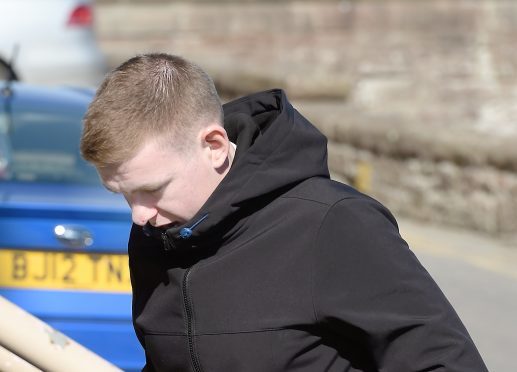 An Inverness man told a jury that he was "devastated" when he found out the man he had punched was left with injuries so serious he might never recover.
Joshua Jack, 21, was giving evidence in the second day of his trial where he denies assaulting landscape gardener Colin Tucker, 53, to his severe injury, permanent impairment and danger of life.
Earlier, the trial had heard the apprentice heating engineer had delivered one punch to Mr Tucker's face after an argument over a cigarette which had been thrown into Jack's girlfriend's car. A taxi driver found Mr Tucker lying with his head on the pavement and his body lying on the road.
Jack, of Highfield Avenue, claims self defence, telling the court that he thought he was about to be struck by Mr Tucker.
He said: "I wish it had never happened. When I learned that he was not in a good condition I didn't feel good at all. I was devastated."
Inverness Sheriff Court heard that Jack was a keen boxer as a teenage schoolboy and had trained with Highland Boxing Club.
He denied under cross-examination by fiscal depute Roderick Urquhart that he was acting the 'hard man' and 'showing off' to his girlfriend in the early hours of April 10 last year near Morrison's car park in Millburn Road.
He also denied a suggestion by Mr Urquhart that he "got his retaliation in first."
Earlier, brain injury consultant Dr Ashish Macaden, who continues to treat Mr Tucker, told the court: "His chances of a full recovery are almost nil."
He said Mr Tucker suffered three brain haemorrhages and required emergency surgery. He added that his patient still has limited communication and comprehension functions.
"He also has difficulties with his vision, memory and controlling his emotions and this upsets him." Dr Macaden added.
Electrician Ian Lamont, 21, of Kiltarlity, was with Jack when the alleged assault took place.
He said if he had thought that Jack was going to do something to Mr Tucker: "I wouldn't have let him out of the car."
Jack denied he intended to be physical with Mr Tucker.
He told defence solicitor Marc Dickson:"He was a fair bit bigger than me, big and strong. He was quite aggressive and when he began to take his jacket off, I was quite shocked.
"I thought he was going to hit me. So I threw a punch and he fell backwards. It all happened in a matter of moments." Jack went on: "I dragged him off the road on to the pavement. There was no sign of any injury and I left him sitting up."
Speeches will be heard this morning.