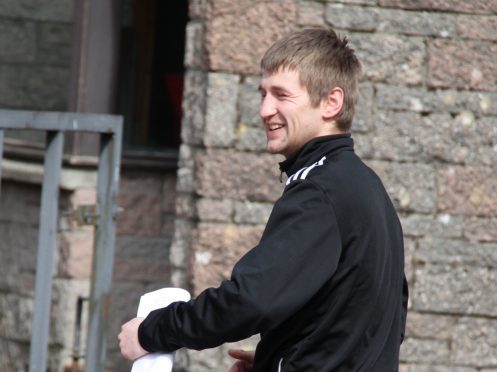 An uninsured driver who collided with a police van and smashed into another vehicle has been given a "last chance" and was spared returning to jail.
Vadims Prohurovs from Latvia admitted driving towards a police vehicle in Kilmallie Road, Caol, on March 12, attempting to pass it and colliding with another car.
The 22-year-old also pleaded guilty to driving without a licence or insurance.
Fort William Sheriff Court heard yesterday that police received a call about a black Audi being driven erratically in Kilmallie Road. Two officers, one in a van and the other in a car, set off to look for it.
Procurator Fiscal, Martina Eastwood, said: "The Audi was spotted and the police car followed it with the blue lights flashing. The police van began driving towards the Audi. The accused tried to manoeuvre past but scraped the side of the van and collided with a parked vehicle. He was not insured to drive and didn't hold a driving licence. He was arrested."
Prohurovs' solicitor, Stephen Kennedy, said: "The Audi belonged to a friend and he met him and his girlfriend in Caol. Both had been drinking, but he was sober, so he said he would drive to Claggan.
"When he saw the police car he realised he was not insured but elected to drive on and, as he was trying to pass, scraped the vehicle along the side of the van."
Prohurovs also pleaded guilty to stealing two jackets from Nevisport in Fort William valued at £179 each.
The accused had lived in Ireland previously and Sheriff William Murray QC wanted to know if he had been in trouble there.
Mr Kennedy said his client had pleaded guilty to possessing a small amount of cannabis, but the Sheriff wanted a report to prove he was telling the truth.
The Irish report said a warrant had been issued as Prohurovs had tried to sell an iPhone 6 which his mother sent from Latvia. The buyer found that it was a Nokia with an iPhone cover and contacted the police.
Mr Kennedy said he knew nothing about the warrant and had come to Scotland four months later.
Sheriff Murray said: "I am deciding on an unusual course of action and am going to trust you. I am going to defer sentence for three months and if you so much as steal a box of matches, you will be back here. This is very much your last chance."
Prohurovs was released on bail to an address in Claggan, Fort William, and will reappear at court on July 18.