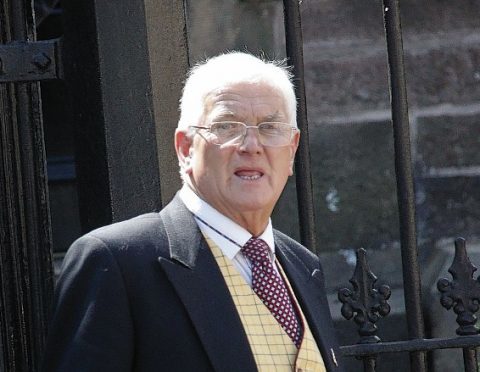 The trial of a former policeman accused of a catalogue of offences against people living in a Lochaber village has been continued until next month.
Thomas Kirsop, 76, of North Ballachulish, denies six charges which include swinging a chainsaw with its engine running while staring at neighbours, uttering threats and shouting offensive remarks and staring at the head teacher of the village primary school in an intimidating manner.
He is also accused of banging into his neighbour as she walked past, following her in his car and putting up a sign with offensive slogans on a boundary fence between their two properties. The father of four also faces charges of shouting, swearing and uttering threats at other residents.
Eileen Irons, 77, told Fort William Sheriff Court that she lives with her daughter, Karen and son-in-law David Wyatt, in the adjoining property to Kirsop's.
"On May 29, 2016, I was in the garden when I saw someone waving a chainsaw at me. It was Thomas Kirsop as I had a clear view of him. I felt very threatened as he was waving the chainsaw up and down with the engine running."
David Wyatt, 58, said: "I received an envelope through the door which read, 'snakes and slugs' and a week later I discovered a wooden sign bolted to my fence. It read: 'Keep out snakes, lying rats and slugs'.
"I had to pull it off using a crowbar. My wife was very distressed and I called the police."
Susan Kemp, 58, the head teacher of St Bride's Primary in North Ballachulish, said that Kirsop stared at her and a child in an intimidating manner.
"I held his gaze, but when he walked away, he kept staring backwards as us," she added.
Kirsop's wife, Mairi, 76, told the court that on May 29 last year, her husband was cutting back shrubs in their garden.
"I wasn't aware of anything else until the police arrived. My husband was using the chainsaw in a sweeping motion to cut back the bushes."
Mrs Kirsop was shown the sign that was bolted to the fence and the envelope, but said she had never seen them before and didn't recognise the writing.
Mairi McMahon, 47, Kirsop's daughter, said she was walking with her father when Karen Wyatt lunged into his shoulder.
She said: "The pavement was wide so she had to jump across it. I was horrified. Karen is my sister-in-law and we don't get on, but I am here to tell the truth."
The trial will conclude at Fort William Sheriff Court on June 12.