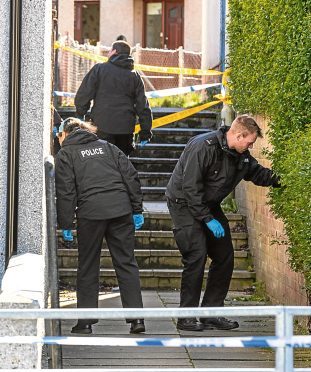 A member of an armed gang who terrorised a businessman and his wife in their Inverness home was jailed for nine years yesterday.
At the High Court in Glasgow John Adams, 28, from Aberdeen, admitted – while acting with others – robbing 60-year-old Ronald Dyce of cash and threatening him and his wife Jennifer and two young children they were looking after.
The offence was committed on March 18, at the Dyce's home in Hilton, Inverness.
Last night, Mr Dyce said that the sentence "was not long enough," adding: "It's affected my wife a lot as she is frightened to answer the door. And we've had to instal cameras on the wall.
"There were kids involved and it's absolutely shocking that they threatened them."
Prosecutor David Taylor told the court that the armed gang burst into the couple's home shortly after they returned from a restaurant.
Adams, who was wearing a hood, and his two accomplices had Scream style Halloween masks on.
They forced Mr Dyce to open his safe and stole between £600 and £1,000.
Before they left the gang – who were armed with a crowbar and a hammer – threatened violence to the Dyces and the children.
The court heard that Mr Dyce then chased and grabbed Adams. In the struggle he dropped his fleece top and hammer.
Adams' DNA was found in the hooded top and inside a glove.
Judge Lady Rae told Adams that, but for his early guilty plea, she would have jailed him for 12 years.
Lady Rae told Adams: "This must have been absolutely terrifying for this couple coming home from a restaurant to this. It is clear you were watching the house. You went in with weapons and threatened this couple and the two children. You were masked and intent on robbing them."
Defence counsel Jonathan Crowe said: "He apologises for his actions. He had significant gambling debts. He was told he would be taking part in the robbery and felt he had no choice."