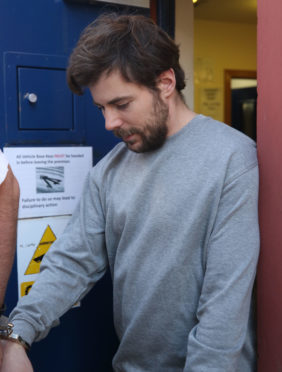 A man who snatched an autistic child in a railway station was jailed for eight months yesterday.
The 10-year-old boy's mother had momentarily taken her eyes off him to flick through a magazine – and then saw him being carried off by a stranger.
Sheriff Gary Aitken described it as "sinister" incident after hearing that 31 year old Dawid Grzybek had a similar previous conviction involving a 15-year-old girl.
The drama occurred in Inverness Railway Station on February 18 and Grzybek was quickly traced by police. He appeared from custody in Inverness Sheriff Court the following day.
He gave officers various different reasons for taking the child, who was quickly re-united with his mother. Grzybek said the child was in his way, then his reason changed to thinking the child was his own. The court heard that another explanation he gave to police was he was punishing the mother for not taking care of her child.
Sentence was deferred for a background and a psychiatric report and he was imprisoned by Sheriff Aitken's fellow Sheriff Eilidh Macdonald yesterday.
She told him: "This is an extremely serious charge and only a custodial one is appropriate given your previous conviction."
Grzybek of Quayside Court, Inverness, had admitted behaving in a disorderly manner by picking up the boy and walking off with him, placing his mother and the boy in a state of fear and alarm.
The court was told that Grzybek's previous offence was in 2017.
Defence solicitor Neil Wilson told the court: "He does not appreciate the seriousness of what he has done. He is hoping he will be deported instead of custody.
"But I told him that it was not possible for the court but that it may happen anyway on his release. I have made him aware that custody was likely."
The court heard that the mother was in the waiting room watching her son through the glass wall.
"She was flicking through a magazine and when she looked up, he was not where he was. She then saw her son in Grzybek's arms before he put him down near the lost property area.
"The child then ran towards his mother, angry confused and upset. He said he had shouted at the man to let him go and that the man said nothing. The police were alerted and he was arrested the following day.
"He told officers he was drunk, getting divorced from his wife and that he had a seven year old child.
"He said: 'I suppose I thought the child was mine. I didn't injure him. There was no adult and I moved him like a flower.
"It was just an instinct. I was trying to make him happy."