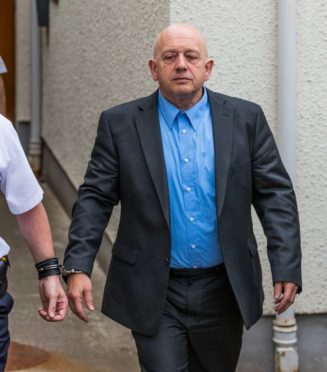 A "predatory and manipulative" former teacher at Gordonstoun has been jailed after being convicted of lewd acts against three of his pupils.
Andrew Keir, from Cheshire, argued that he should be spared but at Elgin Sheriff Court yesterday he was sentenced to a year in prison – the maximum that could be allowed.
Sheriff Olga Pasportnikov she would have imposed a longer spell behind bars, had it been possible, describing the sentence as "woefully inadequate" as punishment for his "calculating and grooming" behaviour.
Gordonstoun apologises after former teacher convicted of 'grooming' pupils
She said, however, that she hoped it would provide a small measure of "closure" to his victims.
During a trial, two men, who were 13 at the time, gave emotional evidence about Keir taking them on "skinny dipping" sessions at the school between November 1988 and March 1989.
The victims described their former house master "chasing" them while naked in the pool in an attempt to get them to take their own trunks off.
The teacher then showered naked in the presence of the boys before making remarks about his penis.
A third teenager, who was 15, revealed Keir, who is now 67 years old, touched his crotch and bottom during judo grappling and put his hands down his trousers after inviting him to the physics lab to play computer games one evening in 1991.
Sheriff Pasportnikov told Keir: "These incidents establish a course of conduct indicative of a grooming situation.
"I consider that your behaviour was premeditated, predatory, manipulative and highly calculated for your own sexual gratification.
"You were in a position of trust and you breached that. You have shown no remorse or contrition."
She added: "The maximum sentence I can impose is 12 months in custody. I consider this to be woefully inadequate due to the gravity of offending.
"The sentence is in no way meant to reflect the harm done to the victims. It can only be hoped that it will bring a degree of closure for them."
Gordonstoun has apologised for not having stricter child protection policies at the time of the offences while praising the "courage" of victims who have spoken out.
During evidence, two of the boys said they had taken concerns about Keir's behaviour to the school chaplain shortly after the swimming pool incident. However, no further action was ever taken.
Yesterday, the school stressed it now has "robust" procedures, which include suspending staff after an allegation is made pending external and internal investigations.
Annual training is also given to all teaching and pastoral staff to reinforce what is "appropriate" conduct with students.
A spokeswoman added: "When we were contacted by the police in 2015 about the allegations we gave them our full cooperation and wrote to alumni offering our support and urging anyone affected to contact the police.
"During the trial it became clear that the school's response at the time of the offences was not as robust and rigorous as it would be now and we are very sorry for this."
Defence solicitor Stephen Carty argued that Keir, who has been diagnosed with Asperger's syndrome, should have been spared prison.
He said: "It's clear his own health problems would make a custodial sentence difficult to cope with but it would also cause some difficulty for the prison service.
"It's also clear that the length of that sentence would not allow him the time to address the issues that have led him to where he is."
Keir, of Calveley in Cheshire, was found guilty of two charges of lewd, libidinous or indecent practice by removing his swimming trunks in the presence of children between November 1988 and March 1989.
He was also found guilty of a further breach of the peace charge by asking a child to remove his swimming trunks and a charge of indecent assault by putting his hand down a boy's trousers, both in 1991.
Yesterday, the National Society for the Prevention of Cruelty to Children (NSPCC) in Scotland described the case as "disturbing".
A spokesman said: "The effects of crimes against children can last long into adult life so it is vital that victims feel confident to speak out and receive justice no matter how much time has passed since the offences took place."