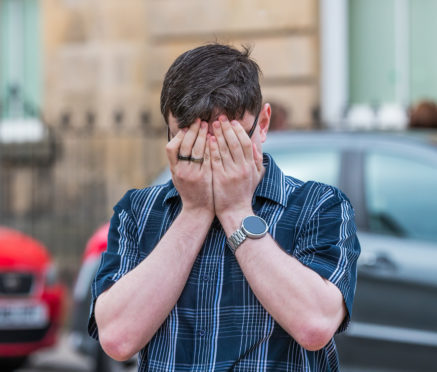 A Moray man has admitted having a stash of nearly 2,000 indecent images naked children – some as young as one.
Christopher Blakesly, from Elgin, admitted having the haul of pictures and videos when he appeared at Elgin Sheriff Court yesterday.
Prosecutors described the grim images, which included an 18-month-old boy in a dog cage and a two-year-old being sexually abused.
Moray man downloaded more than half a million child porn images
Fiscal depute Kevin Corrins said the toddler could be heard to say "it hurt" but was ignored by the person committing the offence.
In total, police found 1,651 pictures and 67 videos on a mobile phone seized from Blakesly after he was arrested at his work.
Specialist officers considered 123 of the pictures and 27 videos on the device to be category A offences, which is the most serious.
A further 386 pictures and 21 videos were classed at category B while 1,142 pictures and 19 videos were assessed as being category C.
Police arrested the 26-year-old following an inquiry into pornographic images of children in the area.
After arresting Blakesly, officers then found the disturbing images on a mobile phone that was kept in his bedroom, which was later forensically examined.
Mr Corrins said: "The images and videos featured naked or abused children. The majority of them featured young females and males naked, or partially clothed, in various poses.
"There is one video which shows a baby, who appears to be around 12 months old, being touched by an adult female."
Defence solicitor Matthew O'Neill explained a psychological report would be necessary to be prepared for his client to examine background circumstances.
Blakesly, of Meadow Crescent in Elgin, pleaded guilty to a single charge of possessing indecent or pseudo photographs of children between June 17 and July 4 last year.