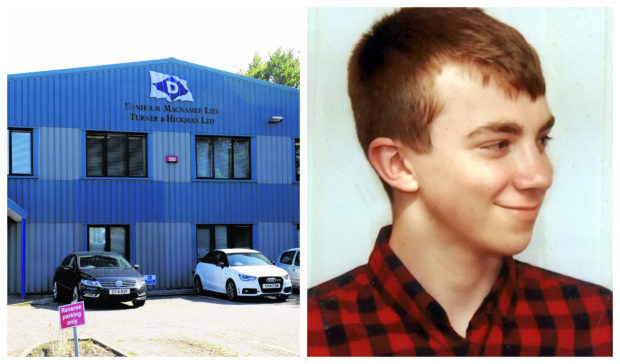 The High Court in Aberdeen has heard how a horrified father rushed to give first aid to an injured worker and found his son near death.
Michael Mclean, 17, was on the final day of a work experience placement with Inverurie-based Denholm MacNamee Ltd when he became trapped inside a massive industrial machine.
The teenager was freed but suffered severe injuries and died a week later at Aberdeen Royal Infirmary.
Man charged over death of Aberdeen schoolboy who died on work experience
Dean Reynolds, who had worked with the firm for almost three years, yesterday went on trial charged with causing his death.
Reynolds is alleged to have operated the machine while Mr McLean was inside the drum of a spooler – a large machine used to lower cables into the sea from oil platforms or ships.
He also faces an alternative charge of breaching health and safety regulations and is also accused of having thrown boots away to remove evidence.
The first day of a trial saw evidence given by Brian Ritchie, the managing director of the company, who said that in the aftermath of the accident Reynolds had told him the teenager may have "choked on chewing gum".
Details confirmed for funeral of teenager killed in Aberdeenshire industrial tragedy
Mr Ritchie described the moment he became aware of a serious incident and how Mr Mclean's father, also an employee, urgently attempted to resuscitate him.
He said he had been alerted to a problem in the paint tent at around 12.30pm on August 14, 2015, and had immediately gone to see what was happening.
Mr Ritchie said the casualty's father had been among the employees at the firm and had been a designated first aider.
He told the court: "Mikey had been removed from the spooler and was lying at the entrance to the paint tent.
"A couple of guys there called for an ambulance as his father Mark ran down and started giving him CPR."
He added that Mr Mclean had been unconscious and there had been blood leaking from his ears.
Advocate depute Richard Goddard asked him if he had questioned Reynolds over what had happened during the incident.
The witness said they had spoken on multiple occasions, with Reynolds first replying that he "must have taken a turn" and later that "Michael was always chewing gum so he "He must have taken a turn."
The court heard earlier that Craig Fraser was responsible for supervising health and safety at Denholm MacNamee.
Defence counsel Ian Duguid asked the managing director: "If a worker had been doing something he should not have been doing would you expect to hear about that?"
Mr Ritchie replied: "Yes."
He was then asked: "Craig Fraser had to admonish Mr Mclean for being inside the wheel in the week before the accident, did you know that?"
He replied: "No."
The court heard that Reynolds, of Regent Street in Keith, had returned to work briefly the week after the accident but then left the company.
Mr Duguid asked him if he knew the reason Reynolds gave the HR team for leaving.
He replied: "I don't know."
Reynolds, 23, denies all the charges against him.
The trial, before Lord Beckett, continues.