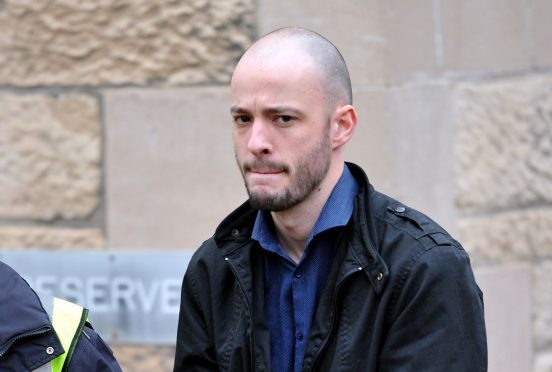 A Moray paedophile previously jailed for filming himself abusing a baby has avoided further prison time after admitting to taking a video of another infant and sharing it through Whatsapp.
Ryan Simpson was caught with a number of indecent images and videos of children on his mobile phone, including a film of a baby.
But the 31-year-old was spared jail – because he had filmed the baby around the same time as the original offence.
Man filmed himself sexually assaulting a baby… Then sent the footage to his boyfriend
Had he reoffended after his release, he there would have been "no alternative" to jail.
At Elgin Sheriff Court yesterday, Sheriff George Aikten said there was a "significant attraction in locking him up and keeping him well away from the public" but accepted he could not "just lock him up and throw away the key forever."
Defence solicitor Keidra Morrison said the images found had been downloaded and shared around the same time as his previous offences.
She said: "The circumstances of this case are unusual, as this is not a case of my client having served a sentence and re-offended, he committed this offence at the same time as his previous ones. He does fully accept responsibility for offences regarding these images."
Simpson, of Ontario Court, Elgin was found with the images after he attended to his local police station to inform them of a change of address.
While there, officers used the terms of his sex offenders registration to seize and check his mobile phone where they found the indecent images and videos.
He was also found to have shared a video showing a naked baby on August 3 last year, with the stash of pictures created between October 2015 and August 2016.
Ms Morrison highlighted her client's good behaviour since his release, and stressed he had made "concerted efforts" to rehabilitate himself.
She said: "Imposing a period of custody will do my client more harm than good. The criminal justice report has shown that he is making huge efforts to turn his life around and his compliance with his supervisor has been to the highest standard.
"He has the full support of members of the church who have offered character references for him."
Sheriff Aitken said that Mr Simpson had a "long and difficult" road ahead of him.
"If these offences had been committed after your release from custody there would have been no alternative to a lengthy custodial sentence.
"However, your solicitor has offered compelling evidence that a community-proposal would be the best way to deal with you. You are being given an opportunity to change and put this behaviour behind you and it is not in your own hands."
Simpson was given 200 hours of community service and a three year supervision order.