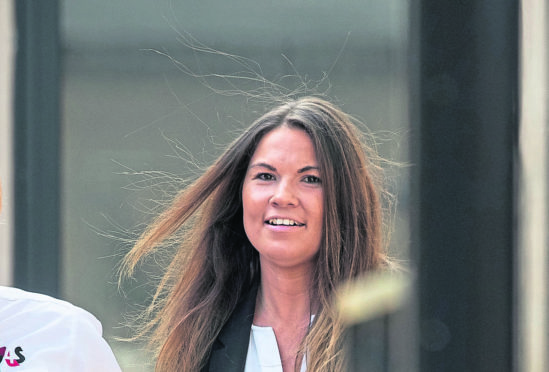 A nurse who has destroyed her career by agreeing to smuggle drugs into a north-east prison has been jailed for nine and a half months.
Hannah Louise Dagg was working at HMP Grampian when sniffer dogs caught her sneaking cannabis resin and cocaine into the prison on April 19.
The 28-year-old had hidden a vial of cocaine within her body and a package containing two bars of cannabis resin in her shoe.
She had apparently been paid a significant sum to pass the illicit substances to one of the £140 million super prison's inmates.
Shamed nurse facing jail term after smuggling cocaine and cannabis inside her to get it into HMP Grampian
As Dagg, of Grange Road in Dornoch, appeared for sentencing yesterday, defence agent Stephen Knowles pleaded with Peterhead Sheriff Court to show his client leniency and spare her imprisonment.
He said she would receive "longer and more meaningful" punishment from a community payback order.
Mr Knowles also told the court his client had faced "unfortunate working conditions", was suicidal and had a "borderline personality disorder".
Sheriff Christine McCrossan took time to deliberate, considering Dagg's mental health woes and the recommendations of a criminal justice social work report.
She came to the conclusion, however, that there was no alternative to custody for the first offender, who pleaded guilty to sneaking cocaine and cannabis resin into HMP Grampian.
Dagg had been charged with two offences under the Misuse of Drugs Act 1971 relating to the supply of a controlled drug.
The Sheriff told her: "The situation is very much one of your own making. You placed yourself in a position where you knew you were breaking every rule.
"You also must have conceived a way to hand the drugs over within the prison.
"You said you planned to hand them over then confess what you had done but I do not find this very convincing. You could have walked away at any time.
"I have to reflect public condemnation of this and I feel the only appropriate thing is custody. This is an extremely serious offence."
During an earlier appearance, depute fiscal Ruairidh McAlister told the court the street value of the class A drug was up to £200 and the class B drug up to £300.
Within the prison, however, they could have been worth as much as £1,000.
During questioning by police, Dagg accepted she had been attempting to supply the drugs to an inmate at the facility.
Mr McAlister said: "She told the police that she had agreed with a named prisoner to take phone calls from a woman on the outside.
"Her role was to conceal these items and hand them over. She received payment for this."
In court yesterday, the Sheriff confirmed that Dagg had apparently been offered £1,500 for the drugs.
Mr Knowles said it was "likely Miss Dagg will also lose her career" following her conviction.
She is likely to face a hearing before the Royal College of Nursing following her release.
A spokeswoman from the Scottish Prison Service said: "A comprehensive range of robust security measures are in place to prevent the introduction of contraband into our prisons.
"Significant investment continues to be made in the development of new technology and staff training to detect, deter and reduce the availability and supply of illegal drugs."