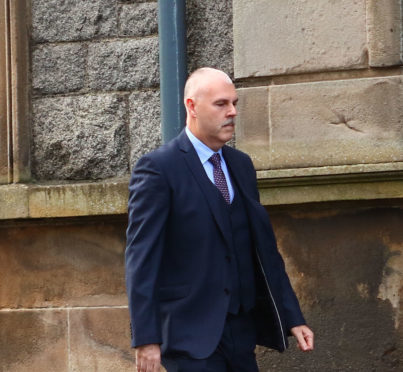 A former Oban police officer caught with indecent images of children has been jailed for eight months.
Darryl Burnside, 50, was also placed on the Sex Offender's Register for 10 years at Oban Sheriff Court yesterday.
He previously pleaded guilty to possessing moving and still images of children, ranging in age from less than 18 months to girls in their early teens.
---
>> Keep up to date with the latest news with The P&J newsletter
---
Burnside was still a serving officer when police raided his home in Nant Drive on October 13 last year and discovered the images on a Kindle and a tablet.
Hundreds sign petition asking for a policeman who was caught with child porn to be stripped of his pension
Sheriff Patrick Hughes said Burnside could have avoided jail were it not for the severe content.
The sheriff told him: "You are a person whose life until this matter has reflected great credit on you. It is no exaggeration to say there are people who are alive today who would not be alive but for the bravery you have demonstrated in your public service as a police officer.
"I would have been persuaded but for the presence of category A images which involve the penetration of a child. These images involve the greatest amount of suffering for children. There requires to be a deterrent and for the purpose of deterrent, only a custodial sentence is appropriate."
Sheriff Hughes said the sentence would have been one year were it not for the early guilty plea.
The court previously heard that the home was searched after intelligence indicated that a computer IP address was involved in an online chat forum where an indecent image of a female child was uploaded. The website was known to police as one used by people who have a sexual interest in children.
On the Kindle there were three indecent images classed as category C and three moving images at category A.
The tablet had seven category A images – the worst – one category B and 49 category C images.
Fiscal Eoin McGinty said that one of the moving images was "a video of a child of less than 18 months old wearing a nappy", adding: "The child is in obvious distress."
He said another image featured a girl aged between eight and 10 years old.
In the plea in mitigation yesterday solicitor Hannah Beaumont said: "He is his wife's full-time carer as a result of her suffering from Multiple Sclerosis.
"A reference that has been written by Mrs Burnside is before the court. She is supportive of him however in no way seeks to minimise the offending behaviour.
"He is an individual with no previous convictions and a previous impeccable character. It is clear through the criminal social work report he has accepted full responsibility for his offending."
She said he had been engaging with "Stop It Now" charity and having weekly telephone counselling sessions. He had also completed a series of online modules and the solicitor asked that his rehabilitation could continue.
She added: "He has accepted that he has a problem. There are restrictions in his home address on access to the internet and TV. Mrs Burnside is the only individual who has unfettered access to the internet within the home."