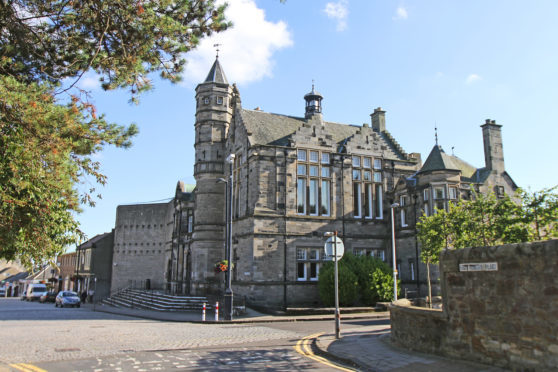 A paedophile snared in a vigilante sting outside a busy DIY store was today told he faces jail.
George Fraser was exposed by paedophile hunter group The Innocence Keepers after sending one of their decoys – posing as a 13-year-old girl – hundreds of sick messages and pictures.
The 33-year-old sent intimate pictures of himself and gave detailed descriptions of sexual acts he wanted to carry out on the fictional young girl.
But the "teenager" was actually a member of the online group, which set up a sting operation that was broadcast live online outside a B&Q store in Leven, Fife, in October last year.
Fraser believed he was meeting an adult outside the store to sell car cleaning supplies.
But instead he was confronted by members of the online hunter group who later called in police.
Fiscal depute Jade Doig told Kirkcaldy Sheriff Court that Fraser had initiated contact on a social media site called Nearby in July 2017 and was told she was only 13.
Miss Doig said: "The witness received a message from the accused's profile asking to meet up and chat.
"The witness told him that she was 13-years-old but the accused continued to contact her. After around eight messages were sent, the accused began sending sexualised messages to the profile.
"In total, 860 messages were sent between the accused and the witness."
Fraser sent further intimate pictures, as well as one of his face.
She added that the witness decided that the conversation had got to a point where the accused needed to be confronted and a sting was arranged by the group.
Fraser was arrested and the group handed over screenshots of the conversation to investigators.
Fraser, 33, of Glenrothes, Fife, pleaded guilty on indictment to a charge under the Sexual Offences (Scotland) Act.
Defence solicitor Megan Davidson said: "He is taking this very seriously.
"There are concerns in the background reports about him completing hours of unpaid work.
"He feels fit to complete those hours."
Sheriff Jamie Gilchrist QC deferred sentence until next month for the defence to produce a report from Fraser's doctor about his suitability for undertaking unpaid work.
He said: "I've not at this stage decided that there is a realistic alternative to custody.
"I will continue the case for a report to see if you are fit for unpaid work."