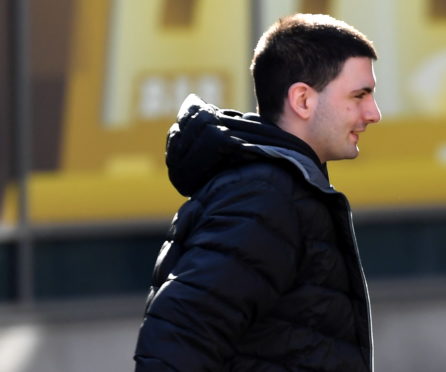 A dad yesterday blasted the justice system for "failing" his young son after a man was cleared of leaving him seriously injured in a moped collision.
Paul Jessiman, 20, went on trial accused of causing the child, who cannot be named for legal reasons, severe injury by driving dangerously on a closed-off section of road on Monday.
He was also charged with failing to report an accident to the police.
However, the jury found the charges against him not proven at Aberdeen Sheriff Court yesterday.
The jury took about 20 minutes to reach its decision.
The eight-year-old boy had been playing on his BMX bicycle when he was found injured in the Cornhill area of Aberdeen on September 3, 2017.
His parents found him unconscious and drenched in blood.
The schoolboy lost four teeth and suffered injuries to his legs and face – including deep cuts to his gums and nose – and needed 28 stitches.
The nature of his head injuries meant doctors at Aberdeen Royal Infirmary had to operate while the boy was awake while they tended the wounds and reattached his teeth.
The jury heard doctors need to wait until the youngster is 21 before they can use part of his hip bone to fit permanent dentures.
Speaking outside court yesterday Mr Jessiman said he was "relieved" at the jury's decision and added: "It was a waste of time – I was never involved in the first place."
However, the parents of the boy said they were "absolutely devastated" at the verdict.
The mother said her son had been diagnosed with post-traumatic stress disorder following the accident and said it had been "horrific" for her having to relive the incident again in court.
And the child's father said he was not sure how he was going to tell his son the news.
He said: "I will tell him to keep positive – no matter what life throws at you.
"I need to try and turn it into a positive thing for him.
"The most hurtful thing to me is that our son's day-to-day life has changed dramatically.
"The justice system failed our boy today – it's him that lost out today."
Mr Jessiman previously pled guilty to driving with no insurance or licence and was fined £200 for each offence.
Sheriff Morag McLauchlan also added six penalty points to his licence.