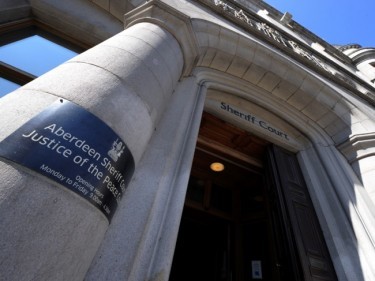 A teenage dad has been told to "sort himself out" after threatening the mother of his unborn baby with a knife when an argument about a cigarette spiralled out of control.
The 16-year-old, who can not be named for legal reasons, appeared at Aberdeen Sheriff Court yesterday where he pleaded guilty to shouting, swearing, brandishing a knife, throwing items and assaulting his girlfriend on Saturday, February 9, at an address in the city.
The court heard that the youth began arguing with his 18-year-old girlfriend over a "cigarette".
Fiscal depute, Anna Chisolm, said: "The accused and the complainer had been in relationship for a year and she was 33 weeks pregnant with his child at the time.
"His behaviour was erratic, he was shouting and swearing.
"He aggressively pushed a pram and demanded that his girlfriend pack her belongings and go home."
The row was loud enough to disturb the aunt and grandmother of the accused, who were also in the property at the time, and attempted to calm him down.
At one point, the court heard that the accused's girlfriend and his aunt locked themselves in a bathroom while he kicked the door and made threats.
He then appeared with a kitchen knife and shouted "I'll show you" before throwing it down a hallway.
His grandmother called the police and officers arrested the 16-year-old later that day.
The teenager's defence agent, Kevin Longino, said: "This was extremely immature behaviour.
"The couple's child was born two weeks after this and he stopped drinking when he became involved with childcare issues."
Sheriff Mungo Bovey ordered the accused to remain under supervision for a year, hoping the sanction would allow him the chance to "sort himself out."
Sheriff Bovey said: "You need to get experience of the real world.
"You have many years ahead of you and you need to keep on the straight and narrow to avoid occasions like this."