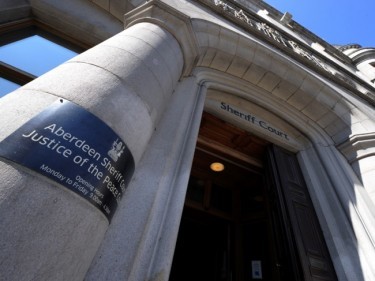 A kitchen fitter who was found asleep in the back of his car after crashing it has been told his actions were "utterly incomprehensible".
Aberdeen Sheriff Court heard yesterday that Dillon Irwin, from Burnley in England, was drinking at a pub in the city after carrying out work in the north-east on Wednesday.
After drinking pints of Guinness and glasses of whisky, the 25-year-old decided to get behind the wheel of his yellow Seat Leon – which he subsequently crashed.
Fiscal depute, Rebecca Clark, told the court: "Witnesses watched as he went to the car park and got into his car, turning onto Oldmeldrum Road where he immediately crashed.
"Police were contacted and attended at 2.20am – and found him sleeping in the back seat of the vehicle."
Irwin was woken up to provide breath samples, and told the officers he had consumed "a bottle of whisky", before adding "I'll tell you now that I'm over the limit".
His reading showed 75mg of alcohol in 22 millilitres of breath and he later pleaded guilty to driving under the influence.
Defence agent, Andrew Ormiston, said his client's behaviour was "foolish".
He said: "He is a commercialised kitchen fitter, which is what brought him to Aberdeen.
"He was out with a colleague and they had agreed to share a taxi, but they fell out after a few drinks and he foolishly got into a car to sleep, and was later found in the car's back seat asleep.
"He utterly regrets his actions."
Sheriff Raymond McMenamin told Irwin: "You had no business being behind a wheel of a car.
"I don't know what possessed you to go on such a binge when you had a stable job and family.
"It is utterly incomprehensible."
Irwin was disqualified from driving for 16 months, and fined £475.