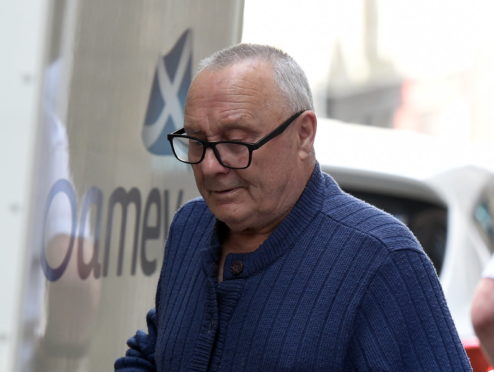 An 82-year-old Moray pensioner has been jailed for 11 years for raping a young girl and carrying out sex acts on another.
William Farmer, from Elgin, preyed on his victims, who were at primary school when the when the abuse began, for more than a decade.
Yesterday the rapist was jailed at the High Court in Edinburgh after being found guilty of four historic crimes last month.
Police only managed to bring Farmer to justice after the women plucked up enough courage to speak to specialist officers.
Relatives of the victims have already spoken out about how the sex offender has condemned the women to their own "life sentences" through his hideous acts.
And last night a charity praised the bravery of the women while saying it is never too late for victims to get justice.
A NSPCC Scotland spokesman said: "Abuse ruins childhoods and its effects last into adulthood, but Farmer's custodial sentence shows that survivors can achieve justice no matter how long ago the crimes took place.
"Sexual abuse is never the fault of the victim and the survivors have shown enormous bravery in speaking out about what happened to them and we hope they now receive the support they need."
The offences took place on various occasions between 1981 and 1993 at locations around Moray.
Farmer's first victim was still at primary school when he began repeatedly raping her.
He also carried out sexual acts on the girl and another youngster.
Yesterday his defence lawyer Susan Duff told the court her client had experienced mental health problems.
She said: "Mr Farmer is estranged from his family. He has used alcohol as a crutch and has attempted suicide on three occasions.
"He recognises that your lordship must impose a custodial term and he knows that once your lordship imposes this sentence, he must take each day as it comes."
Lord Kinclaven told Farmer that he had no option but to send him to prison.
He said: "There is no other sentence I can impose in these circumstances. A custodial sentence is needed to reflect the seriousness of the offence."
Farmer, of Chanonry Road in Elgin, was found guilty after a trial at the High Court in Aberdeen.
Afterwards, a relative of one of victims said Farmer's crimes had affected them "horrendously".
She said: "They've gone on to do well for themselves in their lives, but it's been hard.
"He put the fear of God into every one of them.
"This should have happened years ago, he shouldn't have been able to be free for all of this time after what he's done.
"I'm just glad the victims never, ever have to see his face again and he can't do any more harm."