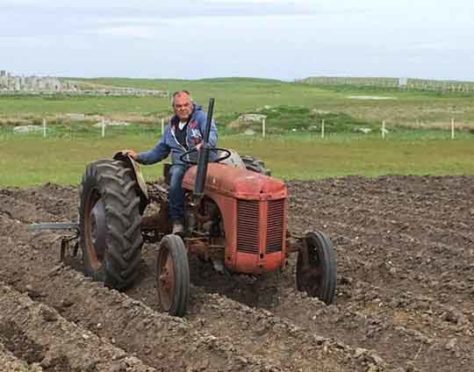 The death of an island crofter who became trapped in a piece of farming machinery is to be probed by a sheriff.
Allan MacCallum, 46, had been inspecting a new baling machine which was an attachment for his tractor when tragedy struck.
The father-of-three was on his family croft on Tiree when he perished.
Mr MacCallum's eldest son, Sean, desperately tried to free him from the baler which had only just been delivered to the farm in the Inner Hebrides last August.
A fatal accident inquiry is to be held at Oban Sheriff Court where the full circumstances surrounding the tragedy will be investigated later this year.
Following his father's death, Sean told how he and a friend had tried in vain to free him.
He said: "I was on the phone in the caravan when I heard shouting.
"I went straight to my father, I grabbed his hand and said, 'Dad, are you there?' but there was nothing back.
"I pushed stuff out of the way to get hold of the door and the other boy was inside the baler trying to push it.
"I tried everything I could and eventually I got the strap on the door and I lifted it right out and my father just dropped. I tried everything – but nothing."
A total of £19,530 was later raised to support the family through a crowdfunding drive.
Locals said on the fundraising page: "We have all been shocked and deeply saddened on the island by the sudden passing of Allan (Brute) who was killed in a tragic accident at home.
"Allan leaves behind three young boys, and together we can all help them through this difficult time."
A preliminary hearing will be held in August before the full inquiry begins later.
Mr MacCallum's death was not the first time tragedy hit the family. Mr MacCallum's brother, Alexander, who was known as Alasdair, died after a road accident at Benderloch, near Oban, in 2010.